jetBlue honors 1st responders who flew to P.R. post-Hurricane María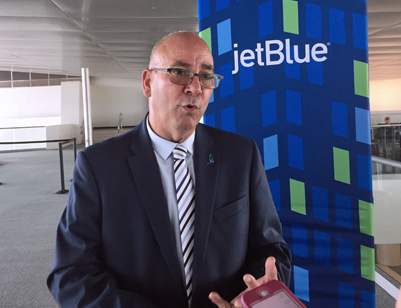 When Hurricane María devastated Puerto Rico in September 2017, more than 500 emergency crew personnel from various mainland states and federal agencies deployed to the island to provide aid and support, many of them flying on jetBlue.
On Tuesday, the airline honored the first responders — from the New York, Orlando, Boston and Massachusetts Police Departments, the New York Port Authority and the Puerto Rico Police Department — in a ceremony held at the Luis Muñoz Marín International Airport.
Héctor Camacho, general manager of jetBlue's San Juan operations, expressed his appreciation to the personnel saying they "answered our call for help not knowing what to expect."
"And this is why we're here today. To celebrate, salute and thank each and every one of you and your teams, for your selfless acts, for putting yourself on the line and helping Puerto Rico get back on its feet," he said.
"Puerto Rico bounced back, and it was in part due to the assistance and the compassion that you showed us," Camacho added.
The law enforcement personnel that arrived to Puerto Rico performed different duties during their stays — provided aid with traffic control, crowd control, surveillance, search and rescue, and patrolling the streets, said José Figueroa-Sancha, director of international operations and security services at JetBlue.
"When I think of Hurricane María, I first think of all the challenges that Mother Nature threw at us, but I am also reminded of the goodness in people, who were willing to provide assistance, without knowing the circumstances or the challenges they would face along the road," said Figueroa-Sancha, who held the post of Puerto Rico Police Superintendent from 2009 to 2011 under former Gov. Luis Fortuño.
"Looking back, I am overwhelmed by the different acts of kindness that we witnessed during these challenging times," he said, noting as examples the Orlando Police Department staff who visited schools to speak to students about security and the Massachusetts Police, which donated vehicles to the Puerto Rico Police Department Airport Precinct.
In the first weeks after the storm, many of the first responders who traveled to Puerto Rico slept on cots at the jetBlue terminal, which operated on emergency power generators that only provided for the minimum, excluding air conditioning.
"Puerto Rico's continued recovery would not have been possible without the work and assistance you provided us in the forefront," Figueroa-Sancha said, who has been with jetBlue for five years.
In the weeks and months after Hurricane María devastated Puerto Rico, jetBlue launched its "100 por 35" hurricane relief campaign, which called for implementing 35 initiatives in 100 days, and a long-term plan for supporting Puerto Rico and fostering economic growth.
As part of that, the recently carrier held a job fair to fill 51 new positions at its San Juan ramp and terminal operations, in preparation to escalate flight frequency and capacity back to pre-hurricane levels, Figueroa-Sancha said. After Hurricane María hit, jetBlue cut back its schedule to Puerto Rico.