CBP: 'Knowing what to expect makes travel easier'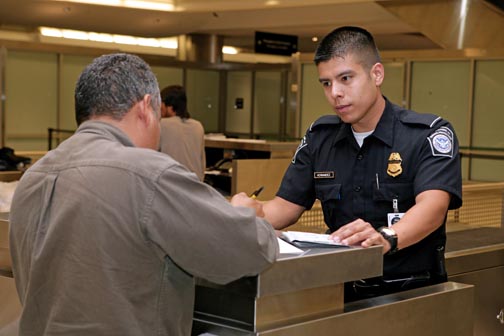 U.S. Customs and Border Protection officers process more than five million individuals in a year arriving from international destinations at all ports of entry in Puerto Rico and the U.S. Virgin Islands.
CBP Officers inspect passengers for compliance with immigration, customs and agriculture regulations. The more international travelers know about what to expect, the easier and quicker the process becomes, the agency said.
In preparation for the Easter Holiday travel season, CBP's San Juan Field Office is encouraging travelers to distinguish the rules and regulations concerning to arriving at any port from international travel.
"Travelers can improve their own experience by being prepared and aware of the requirements when entering United States territories in the Caribbean," said Vernon Foret, Acting Director of Field Operations for Puerto Rico and USVI.
Tourists, U.S. Citizens, and legal residents can take additional steps to smooth their arrivals process by familiarizing themselves with U.S. rules and regulations before departing to avoid potential penalties and fines upon their return.
Upon arrival to a U.S. port of entry, travelers must declare the following:
Items purchased and are carrying with upon return to the United States.
Items bought in duty-free shops, on the ship, or on the plane.
Repairs or alterations to any items taken abroad and then brought back, even if the repairs/alterations were performed free of charge.
Items brought home for someone else.
Items intended to sell or use in a business, including business merchandise taken out of the United States on a trip.
Travel requirements for U.S. Citizens
Individuals traveling abroad must have approved travel documents when returning home.
All travelers must have a valid passport, U.S. Military ID with official orders, Merchant Mariner's Document for USC's on official maritime business, or Permanent Resident card for international air travel.
The Western Hemisphere Travel Initiative (WHTI) requires U.S. and Canadian citizens, age 16 and older to present a valid, acceptable travel document, such as a passport, a U.S. passport card, a trusted traveler card, permanent resident card or an enhanced driver's license that denotes both identity and citizenship when entering the U.S. by land or sea.
U.S. citizens who board a cruise ship at a port within the Western Hemisphere and return to the same U.S. port on the same ship (Closed Loop Cruises) may present a government issued photo ID, along with proof of citizenship (birth certificate, Consular report of Birth Abroad or Certificate of Naturalization.)  U.S. and Canadian citizens under age 16 may present a birth certificate or alternative proof of citizenship when entering by land or sea.
For additional information on documentary requirements, visit HERE.
Travel requirements for visitors to the U.S.
All nationals or citizens of Visa Waiver Program (VWP) countries are required to have an approved Electronic System for Travel Authorization, or ESTA, prior to boarding a carrier to travel by air or sea to the U.S. under the VWP.
ESTA applications may be submitted at any time prior to travel, and once approved, generally will be valid for up to two years or until the applicant's passport expires, whichever comes first. Authorizations will be valid for multiple entries into the United States.
CBP recommends ESTA applications be submitted as soon as an applicant begins making travel plans.
Travel Checklist:
Have all the required travel documents for the country you are visiting, as well as identification for re-entry to the United States. Passports are required for air travel. Visit travel.state.gov for country-specific information.
For citizens of Visa Waiver Program countries, make sure you have an approved Electronic System for Travel Authorization (ESTA) before boarding. For those traveling by air or sea on a visa, CBP has automated the Form I-94 removing the need for travelers to fill out a paper copy. Travelers will still be able to obtain their I-94 number and/or a copy of their I-94.
Know the difference between prohibited merchandise (which is forbidden by law to enter the U.S.) and restricted merchandise (items needing special permit to be allowed into the U.S.). For more information, please visit the Restricted/Prohibited section of the CBP website. Do not attempt to bring fruits, meats, dairy/poultry products and/or firewood into the United States without first checking whether they are permitted.
Understand that CBP officers can inspect you and your personal belongings without a warrant. This may include your luggage, vehicle, and personal searches and is meant to enforce our laws as well as protect legitimate travelers.
If you are a frequent international traveler and haven't already become a member of a trusted traveler program, sign up now. For more information, please visit the Trusted Traveler section of the CBP website.
You may bring into or take out of the country, including by mail, as much money as you wish. However, if it is more than $10,000, you will need to report it to CBP. Ask the CBP officer for the Currency Reporting Form (FinCen 105). The penalties for non-compliance can be severe.