Casino Metro unveils P.R.'s 'largest roulette' at airport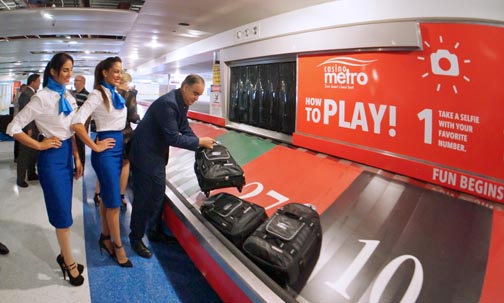 Looking to promote the island as a gaming destination, and boost activity at its property, the Casino Metro at the Sheraton Convention Center Hotel unveiled Tuesday the "largest roulette" in Puerto Rico and the Caribbean, at the Luis Muñoz Marín International Airport.
To design the roulette, Casino Metro covered baggage claim 1 with the game's typical red and black colors and white numbers, true to what is found at the casino. The 13-foot by 4-foot belt was unveiled after a year of design jointly with Transad, said Casino Metro General Manager Ismael Vega.
The casino will invest $100,000 to maintain the roulette over the next          12-months, he said.
"With this initiative, we promote the Casino Metro brand, while promoting the island as a gaming destination from the time the traveler arrives, which is why we chose to locate the roulette wheel in a high-traffic area," Vega said.
Baggage claim 1, used by American Airlines, receives suitcases owned by more than 2 million people a year, he said.
"We want the tourist to recognize Puerto Rico as a gaming destination, equal to the iconic Las Vegas or Atlantic City," the executive said, adding that several years ago, Puerto Rico was one of the top three gaming destinations in the U.S., until the opening of casinos throughout the mainland.
"Innovation is a constant and something that's mandatory for us at the Casino Metro. We're always looking to improve the experience of our customers, attract new audiences, with the goal of positioning ourselves as the most important entertainment point in San Juan," he said.
The roulette will offer tourists the chance to win prizes through the "Snap. Share. Spin & Win" game. Upon arriving to the baggage claim roulette, visitors are encouraged to take a selfie with the number on which their suitcase fell, and share the photo on the Casino Metro Facebook fan page using the #CasinoMetro hashtag. They must visit the casino within seven days after the selfie is taken to receive $10 with which they can bet on their favorite number on the roulette with the possibility of winning up to $350, said Vega. They will also receive a free drink at the Metro Lounge.
"In times of deep economic challenges for the industry, which led to the closure of casinos, and others to reduce expenses, Casino Metro decided to do the opposite," Vega said.
"We expanded the operating hours of the gaming tables, hired more staff, invested in new machines, instituted Metro Stage Live, among other initiatives," he added.
During the news conference, Tourism Co. Executive Director Ingrid Rivera called the initiative as "innovative and unique," predicting it will have a positive multiplier effect upon the island's entire casino industry.