DDB Latina nabs 1st place in global Cristal Festival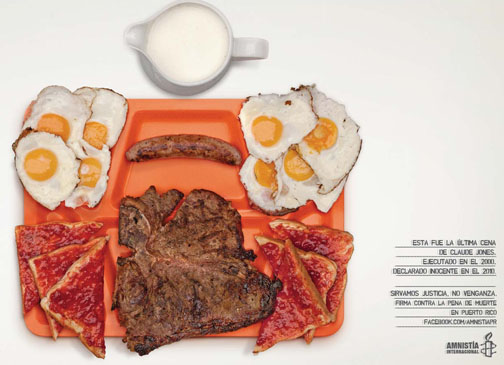 DDB Latina Puerto Rico and its media division, PHD, won the Cristal award, equivalent to a gold medal, at the Cristal Festival global media creativity and innovation competition, for the "Last Meal" campaign.
This campaign was created for Amnesty International to promote the rejection of the death penalty.
The campaign won the award in the "Best use of events" category during the 13th edition of the prestigious European festival, celebrated recently in Courchevel, France. This category recognizes brands' best use and creative positioning through events, festivals and installations, among other consumer interaction tactics.
DDB Latina Puerto Rico has received multiple awards for the "The Last Meal" campaign, such as gold and bronze Lions at Cannes; silver and bronze at the Ojo de Iberoamérica; and the creativity award at the Excel competition of the Puerto Rico Public Relations Professionals Association.
"Our immersion in campaign planning and the management of our unique optimization tools have allowed us to design media programs that produce significant results for our clients," said Carmen Hernández, director of PHD Puerto Rico. "The innovative use of media in this campaign for Amnesty International was key to achieving an emotional connection with our audiences."