Meet Puerto Rico launches new branding campaign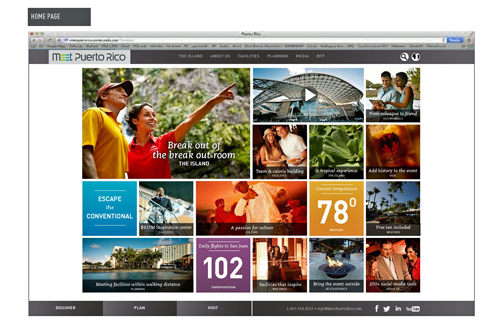 Meet Puerto Rico, the organization responsible for marketing and selling Puerto Rico to the meetings and conventions market, launched its new branding and image campaign Tuesday, with the slogan "On a tropical island. In the Caribbean."
The new campaign, unveiled during the Puerto Rico Hotel & Tourism Association's monthly industry luncheon, seeks to convey the benefits of hosting a meeting or convention gathering in Puerto Rico.
"We know Puerto Rico hits the marks when it comes to top accommodations, great activities, fine dining and sophisticated meeting and event spaces," said Meet Puerto Rico President Milton Segarra. "The true value of meeting in Puerto Rico is about bringing all these elements together to create a singular, memorable and distinctive experience for our delegates and visitors. That's what Meet Puerto Rico, and our branding campaign, is all about."
Using strong visual imagery of Puerto Rico's natural beauty of the destination's beaches, rainforests, undersea life, and golf courses, the ads include overlaid copy that underscores Puerto Rico's ability to accommodate a group's needs, including the island's 1.2 million square feet of meeting space, 14,000 hotel rooms, 2,000 dining options, and hundreds of non-stop flights.
The new campaign strategy gives Meet Puerto Rico the opportunity engage with target audiences, including corporate and association executives, human resource directors, internal and third-party meeting planners, tradeshow, entertainment and sporting event organizers as well as delegates and other visitors across a variety of today's communication platforms.
The ads will appear in print and digital platforms in major meetings, conventions and other business-related media outlets in coming months through a $375,000 advertising spend, as well as through social media. Meet Puerto Rico collaborated with Turkel Brands on the concept, design and execution of the campaign.
"Puerto Rico has everything a meeting planner or group needs and wants, but that's just the cost of entry," said Bruce Turkel, CEO of Turkel Brands, during the luncheon. "Our underlying message is that Puerto Rico is more than another meeting destination, it a tropical island, in the Caribbean. That's makes the destination an event in and of itself."
The new branding campaign includes the introduction of an updated, modern logo with clean lines which incorporates a color scheme of green and blue as a call to Puerto Rico's most prized natural attributes — the island's lush tropical flora and water elements, Meet Puerto Rico officials said.
Other elements in development include a redesigned website set to launch by the end of the month, a new tradeshow booth and uniforms, new collateral materials as well as new destination video for the meetings market.
Meet Puerto Rico's latest results
During the presentation, Segarra also discussed Meet Puerto Rico's latest results in closing group business for the destination.
Meet Puerto Rico has closed the first half of Fiscal 2014 securing 163 groups with 89,532 room night bookings, which represents 48 percent of Meet Puerto Rico's annual booking goal, he said. In addition, the organization's "Dial & Smile" campaign, a two-day selling event with hotel partners in November produced 77 group booking representing 46,247 room nights, of which 75 percent were generated by Meet Puerto Rico.
"We're very proud of our results so far this fiscal year," Segarra said. "We've made some significant changes to the organization and we're seeing the outcomes of a great team effort. We're looking forward to all that 2014 has in store for our organization and the destination."