Liberty sponsors 5th annual 'First Lego League' championship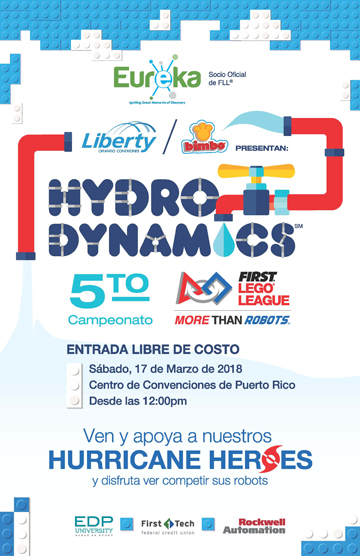 Liberty Puerto Rico is again sponsoring the First Lego League International Robotics Championship, which kicks off March 17, 2018 at noon at the Puerto Rico Convention Center in Miramar.
More than 280 local elementary and middle school students split in 28 teams from community organizations, public and private schools, will participate in the competition's 5th annual edition.
"This competition not only encourages young people to learn about science and technology, it also spurs creativity and the development of problem-solving skills. We are very proud to sponsor this activity once again and help cultivate students' interest in STEM fields," said Naji Khoury, president of Liberty Puerto Rico.
The teams will design, build and program a robot, as well as develop a scientific project that will solve a concrete problem. During the championship, the teams will present their proposals, which not only showcase a solution to the problem but also demonstrate they have integrated First Lego League's values.
The theme for this year's competition is Hydro Dynamics, which spotlights the water cycle and how humans influence it.
First Lego League is an international program that encourages students ages 9 to 14 to develop science and technology skills through a variety of learning experiences that touch over 365,000 young people in 90 countries around the world. In Puerto Rico, Liberty has been sponsoring the competition since 2014.