Liberty phases out OneLink brand, unveils changes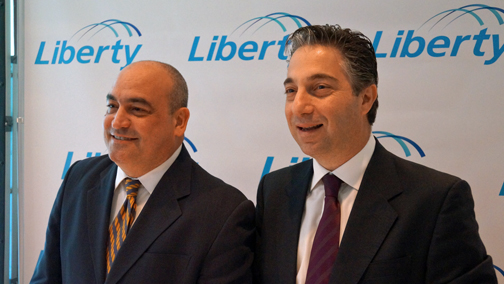 Almost a year to the date after acquiring OneLink Communications, Liberty Cablevision announced that effective today, it will eliminate the San Juan cable system's brand and replace it with its own.
The change comes with the relaunch of Liberty's corporate image, logo, and webpage, plus new offerings that include new programming, higher Internet speeds, better residential equipment and more service bundles that will allow customers to combine the services they want and get significant discounts at the same time, company officials said during a news conference Wednesday.
"Today we close a chapter in our history, completing the OneLink Communications integration process that we started last year," said Naji Khoury, president of Liberty Puerto Rico. "We closed this chapter but we are starting a new one, with a new corporate identity, new products and services and a renewed commitment to remain at the forefront of the cable television, telephony and Internet industries."
With the integration now completed, all OneLink customers will automatically receive their bills from Liberty, but these will include the same account numbers, services and prices that customers are currently subscribed to.
Customers will be able to carry out any transaction or change at the Liberty stores located in Caguas, Luquillo, or the former OneLink stores located in Hato Rey and Levittown. Customers will also be able to make payments, claims, or request service at Liberty stores in Vega Baja, Humacao, Cayey and Hatillo.
"All OneLink customers will have a larger range of service options that will give them more flexibility to make their payments, request changes or new services," said Gabriel Palerm, sales and marketing vice president. "Now that the integration has been completed, they don't have to call and ask to become Liberty customers. That process is automatic. We want to simplify their lives and improve their digital entertainment experience."
The Facebook and Twitter accounts from both companies will be fused into Liberty's — OneLink's webpage and social media accounts will cease to exist — and OneLink's former headquarters in Hato Rey will now be Liberty's headquarters. Liberty also has service centers in Levittown, Luquillo, Caguas, Vega Baja, Humacao, Cayey and Hatillo.
As a result of this integration, Liberty Puerto Rico will be the largest cable operator on the island with 519,100 services and 675 employees. This integration makes the company the main and largest provider of cable services in Puerto Rico, covering approximately 700,000 homes on the island.
"Since acquiring OneLink, we have successfully migrated those customers to Liberty's platform, built a new head end, and revamped the Internet infrastructure, just to name a few. These upgrades have allowed us to provide them with better products and services," said Khoury. "Transitions are always hard but in the long run, these will benefit former OneLink customers tremendously. We thank them for their patience and reaffirm our commitment to continue improving their digital lives."
Eventful anniversary
The integration of the OneLink brand to Liberty's takes place exactly one day before the first anniversary its sale on Nov. 8, 2012 for $585 million, and after a multi-million dollar investment in innovations and infrastructure, management changes, policy changes and personnel training, among others.
Some of the company's most recent innovations are the launch of the 60Mbps Internet service, HBO Go and MAX Go services, a more extensive and better organized channel lineup and MoCA technology for multi-room HD/DVR services which were previously available for Liberty Isla customers only but are now available for OneLink's former customers, now Liberty Metro customers.
To help OneLink's former customers to discover the Liberty experience and make the most of it, the company offers new Motorola HD/DVR equipment that will allow them to use the interactive guide and their TV set features. This equipment will be offered gradually to new customers and those who want to upgrade their video services.
Liberty Puerto Rico LLC's parent company, Liberty Global, is the largest cable company in the world, operating in 14 countries and providing television, broadband Internet and telephony services through next generation networks and innovative technological platforms. The company connects 24 million customers who subscribe to 48 million services.