LM1 Domescape Airbnb in Orocovis ready for more visitors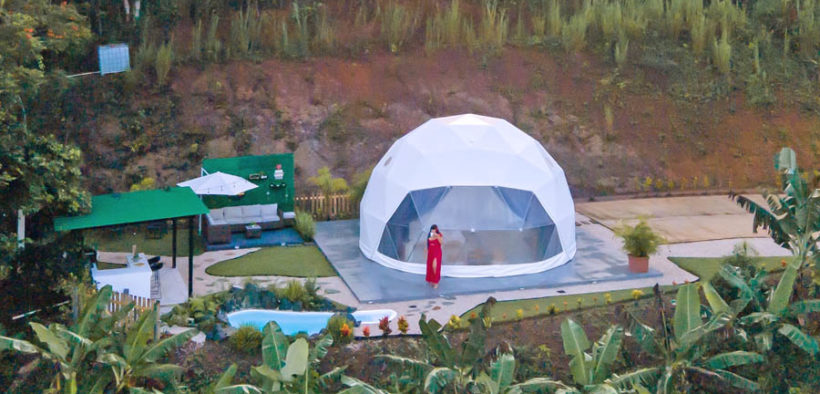 Tourists seeking to get out of the city and enjoy some downtime in the mountains should consider looking into the LM1 Domescape Airbnb nestled in the mountainous town of Orocovis.
About a one-hour drive from San Juan, the LM1 Domescape Airbnb has everything a couple is looking for when they want to relax and enjoy a beautiful view money just can't buy.
In an interview with News is my Business, LM1 Domescape owners Luis Mateo and his wife Nashley Pariente said the Airbnb officially opened its doors in August 2022.
The one bedroom, one bath "dome" Airbnb, also has a heated pool, a gazebo area, a bar, a sink, and a barbeque.
"We also have an outdoor shower, with a view of the surrounding nature," Mateo said. "We have a resting area that has rocking chairs and small tables so our guests can sit down outside and relax."
For a cost ranging from $225 to $250 per night, the space can host two people and "if they have a baby or a child, we can accommodate them for a little extra money."
The idea of opening an Airbnb, Mateo said, emerged after he played professional baseball for 10 years, and after "I didn't get any other contracts."
"We had some money saved up. And we always wanted to have our own business," he said, while noting that the couple owned the land and were initially going to build their home there.
"Having your own business is a bit of an uphill battle but we wanted to bring that type of tourism to Orocovis," he added.
"Initially we were going to build a house, because we own the land so we were going to build our house there, but then we decided to take advantage of that land. So, we had the idea of setting up a dome and bring tourism to Orocovis. And, for people to be able to disconnect themselves from the city and connect with nature," he said.
So far, the Airbnb has been "moving pretty well" but the couple wants to continue growing, because "there are some months that are slower" and they weren't receiving as many reservations as they would want.
Among their guests are both locals and tourists from the mainland US.
Reservations are usually made for the weekends and guests must stay for a minimum of two nights.
"In the weekdays, guests can stay for one night," he assured.
About $60,000 was invested in the Airbnb, and Mateo and Pariente saved some money as family members helped them build the pool. Mateo is in charge of the landscape, he noted.
The process started as Pariente and Mateo went to the Puerto Rico Tourism Co., where they received advice and orientation on opening an Airbnb.
The permits process was however a tedious one, Pariente said, adding that it took them between six to eight months to get all the necessary permits to open up shop.
Most of the guests simply stay the entire time in the Airbnb, purchasing groceries and cooking their own meals.
But others that like to see other attractions visit the "Longaniza route," and "we have Toro Verde which is five minutes away," he said.
Also, in the area is the Toro Negro Forest, rivers, and restaurants, which some guests seek to enjoy.
The Airbnb has wi-fi and a television with Netflix and Hulu among other amenities.