Local co-op sector adds new players, reflects growth curve
The island's cooperative sector welcomed a dozen new players Wednesday, after the Puerto Rico Cooperative Development Commission, known as CDCOOP, certified a mixed group to start their new business ventures.
The 12 new co-ops also got the go-ahead from the Corporation for the Supervision and Insurance of Puerto Rico Cooperatives, known as COSSEC in Spanish, to operate in accordance with Law 239, which regulates the co-op sector.
Among the newly minted groups that create a combined 60 direct jobs and about $1.5 million in business volume, are: two medical co-ops; three farming co-ops; three green and low-cost housing construction co-ops; and one each grouping law students, science and technology professionals and former Transportation and Public Works employees.
There are more than 500 cooperative ventures operating on the island, split between those that are service-oriented and credit unions, according to information available through CDCOOP.
Together, they generate nearly 6,500 jobs, nearly half of which are attributed to the credit union segment. By definition, a cooperative is an autonomous association of people who come together voluntarily to address their common economic, social and cultural needs and aspirations through a jointly owned and democratically controlled company.
Credit unions solid
According to the most recent statistics released by COSSEC, as of March 31, there were 119 credit unions on the island that generated $4.3 billion in loans and nearly $7.6 billion in assets.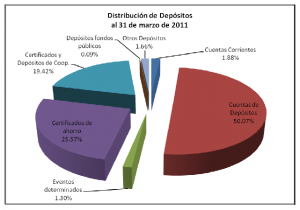 About half of the total loans were granted to individuals, while mortgage and car loans accounted for 32.3 percent and 7.7 percent of the amount, respectively. The loan loss reserve totaled $150 million, representing an increase of $13 million when compared to the prior year. Meanwhile, total shares and deposits exceeded $7.1 billion for the period.
"This represents a 19.6 percent increase over 2007. The [cooperative] movement has succeeded in increasing its assets and indivisible capital reserve by 18.6 percent and 11.7 percent, respectively, compared with 2007," COSSEC's report shows.
While thriving, the actual number of credit unions has shrunk by 8 percent since 2007, when there were 130 in operation. Still, as per COSSEC's assessment, that has not affected the sector's steadily growing economic capacity. In 2007, credit unions generated $4.1 billion in loans and had $6.4 billion in assets.