Pearle Vision looking for Puerto Rico franchisees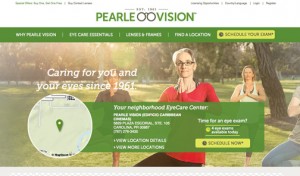 Pearle Vision optical retailer announced today plans to convert 11 of its neighborhood eye care centers in Puerto Rico from company-owned to licensee-owned. Locations are immediately available in Fajardo, Aguadilla, San Juan and Bayamon, as well as other markets located throughout the island.
Pearle Vision licensees can expect their initial investment to build a new center to cost approximately $200,000, in addition to a licensing fee of $30,000.
The company is currently seeking candidates interested in owning and operating their "own Pearle Vision to purchase an existing location with a thriving customer base," the company said.
This is part of Pearle Vision's 2014 expansion plans to re-license 40 to 45 additional company-owned centers. Ideal candidates for Pearle Vision ownership should possess a desire to join a trusted industry-leading brand and work within a proven system to provide exceptional eye care and superior patient service.
"Pearle Vision is poised to continue growing this year and has aggressive plans to convert corporate-owned neighborhood eye care centers to licensees," said Tammy Reaves, vice president of licensing and development at Pearle Vision.
"We are seeking optometrists and opticians across Puerto Rico who have a desire to serve their communities and provide the best possible eye care to their patients to join our growing network of licensed operators," she said.
Opportunities are available for qualified licensees throughout Puerto Rico. The specific location of centers Pearle Vision is looking to convert to licensed ownership, include:
Fajardo
Aguadilla Mall
Plaza Del Atlantico in Arecibo
Plaza Las Americas
Santa Rosa Mall in Bayamón
Montehiedra Town Center
Plaza Palma Real in Humacao
Plaza Del Caribe in Ponce
Plaza Carolina
Rexville Town Center in Bayamón
Plaza Atenas Shopping Center in Manatí
Pearle Vision has 600 centers located throughout North America.