Ford looking for 'unstoppable people' in new campaign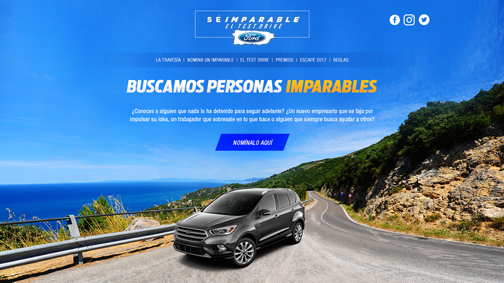 With its new "Sé Imparable" initiative, Ford announced Tuesday it is looking for people in Puerto Rico who are "continually exceling and striving to improve other people's lives as well as their own," despite the island's challenging economic and social environment.
Through its website, the public will have until Feb. 19 to nominate themselves or family members, friends and acquaintances who, in addition to their daily tasks, perform other type of positive activities that have an impact on society.
Among the nominees, 25 contestants will be selected to be part of the "Unstoppable Route" ("Ruta Imparable,") the longest test drive ever held in Puerto Rico on the 2017 Ford Escape.
The "Sé Imparable" test drive will take place March 11, and will go through 42 municipalities around the island in 10 hours. During the event, the stories of the 25 selected participants will be filmed and later shared on www.seimparablepr.com
A jury will evaluate the 25 stories that will be part of the "Unstoppable Route" and select 10 finalists, who the public can favor with their vote through the website.
The finalist with the most votes will win a trip to San Francisco, Las Vegas and Napa Valley, where driving the 2017 Ford Escape will be part of the experience. The voting period will run from Mar. 16 to April 4, 2017.