MAPR launches social media platform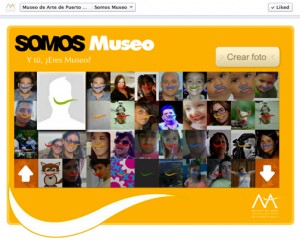 The Puerto Rico Museum of Art has teamed up with digital marketing agency Contáctica to launch the first social media platform created for a local museum.
Under the slogan "We're the Museum," the application will allow friends of the museum's fan page on Facebook to take a photo or upload one to which they can overlay a wavy element of the museum's logo to take the place of their hair, eyebrow, eyelash, mustache or any other creative way. The photo can then be used as the person's profile picture or posted on the museum's wall along everybody else's.
"Museums are, among other things, centers of collective participation, learning and fun, and increasingly, more opportunities arise to connect with our audience beyond our walls and creatively," said Yetzenia Y. Álvarez, public relations manager for the MAPR, as the museum is known for its initials in Spanish.
"Through Facebook and this application we remain in constant contact and share a common visible element, the outline of our logo that unites us as part of the MAPR family," she said. "In addition, this platform allows us to keep our friends informed and invite them to activities in the museum, listen to their suggestions and answer questions, while supporting our educational mission by providing relevant data from museum's permanent collection and exhibitions, the artists and art in general."
The application is ready for use. The user should press "Like" on the MAPR's Facebook page (http://www.facebook.com/museodeartepr), go to the tab that says 'We're the Museum' ("Somos Museo") and follow the instructions.