'Maritime bridge' between PR-DR to reopen next month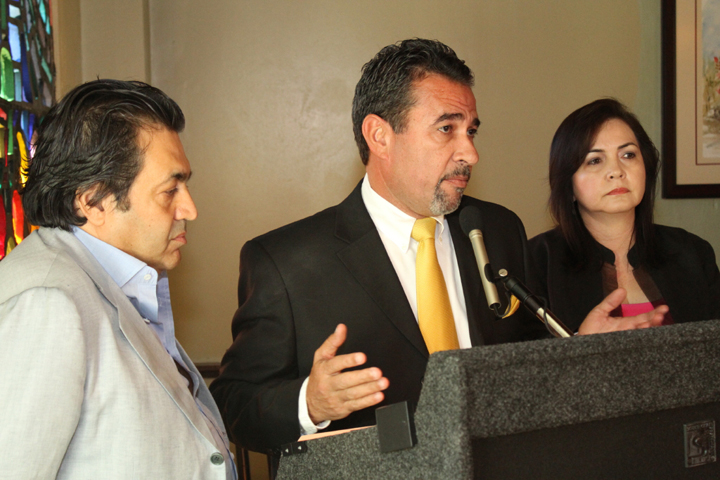 The Caribbean Fantasy ferry

.
Nearly a year after service was suspended, ferry connections between Puerto Rico and the Dominican Republic will restart on March 16 under new operator America Cruise Ferries, which will invest some $65 million to revive the route.
On Thursday, company officials said the 650-foot "Caribbean Fantasy" cruise ship-type ferry will begin offering services from San Juan and Mayagüez to Santo Domingo three times a week. ACF is launching the service in conjunction with Marine Express Inc., the company that until last year offered passenger ferry service through its Ferries del Caribe division, and will now promote the route.
In total, the new service will create about 400 direct and indirect jobs in Puerto Rico and a similar number in Santo Domingo, where the ferry will anchor at the Don Diego Port. Talks are underway for ACF to move into a new 29,000 square-meter facility in the new San Souci port, where it will invest $10 million.
While the San Juan-Santo Domingo trip takes about 12 hours, service to and from Mayagüez takes about eight, said American Cruise Ferries owner Daniel Berrebi.
AFC Owner Daniel Berrebi, Marine Express President Néstor González
and Marine Express Vice President Maribel Más.
"The Caribbean Fantasy is a faster, more modern [ship] that has more than twice the capacity for vehicles, cargo containers and can accommodate more than 1,100 passengers per trip," said Marine Express Vice President Maribel Más, of the new 140-room vessel that incorporates a number of amenities, including a casino, night club, piano bar, beauty salon, a pool, and several high-end restaurants.
In preparation for the start of service, the Caribbean Fantasy will be remodeled in Panama at a cost of $5 million, an expense that is included in the overall investment, Berrebi added.
In the first year of service, the expectation is to transport 100,000 passengers and 12,000 cargo containers through Marine Express, Más said. The combined operations are shooting to generate close to $40 million in revenue over the next 12 months.
The new, much-acclaimed ferry service, will fill the void left when Ferries del Caribe suspended services on April 16, 2010 in response on an ongoing dispute with Mayagüez port operator, Holland Group, over facilities fees and other issues related to the use of the western dock.
On Thursday, Marine Express President Néstor González said problems have been set aside, and Holland Group is now offering "good incentives" to use the port facility.
"We met with Holland Group President José González last night, and he is willing to offer good incentives to have the ferry return and stay in Mayagüez," González said.
Western-area boost
Transportation services by air and sea from the island's western region have received a boost this week, with back-to-back announcements of new services. On Wednesday, the government unveiled plans to launch chartered flights between Madrid and Barcelona, Spain to Aguadilla's Rafael Hernández Airport on March 31.
The revival of the ferry route between the two islands is being widely celebrated by local and Dominican authorities who on Thursday said the absence of the service for the better part of the last year was noticeable both for individuals and businesses.
Interim Governor Kenneth McClintock said the restart of the ferry service will boost commercial relations between the neighboring islands, something that both governments have been pursuing since early last year.
For his part, Máximo Taveras,
consul general
for the Dominican Republic in Puerto Rico, said Thursday was a "joyous day" for the more than 200,000 Dominicans living in Puerto Rico who count on the ferry service to travel back and forth.
"More than 10,000 people were unable to travel to the Dominican Republic over the Christmas holiday because they could not afford the increase in airfare," he said.
High-traffic zone
Puerto Rico's western flank, baptized several years ago as "Costa del Sol," plays host to some of the island's most pristine beaches and high-end hotels. Along with air transportation, maritime traffic accounts for an important aspect of the region's economic activity, said Jaime López, Puerto Rico's economic development chief operating officer.
"When the last ferry stopped offering service, it wasn't a matter of making it viable again for the sake of doing it, it was about confirming that traffic between Puerto Rico and the Dominican Republic was important enough to attract additional investments to restart the service," López said.
During the news conference, López shared statistics related to tourism activity in Costa del Sol, saying that in fiscal 2008, some 230,000 visitors arrived to the region, generating 6,000 hotel room registrations. The figures increased in fiscal 2010, when visitors reached 271,800 and room registration reached 6,100.
"This operation is more ambitious than its predecessor and it will greatly contribute to tourism traffic," López said.