MasterCard challenge rewards student culinary talent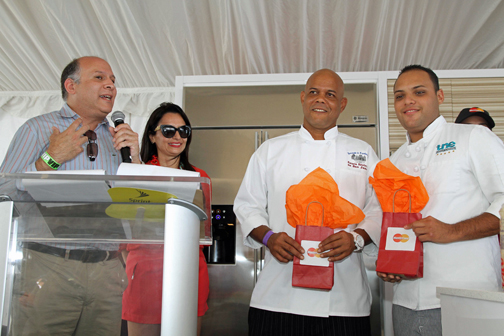 A student from the Universidad del Este won this year's fourth edition of the MasterCard Student Food Challenge, held prior to this weekend's Saborea culinary fest, receiving a $1,000 scholarship for proving his talent in the kitchen, the credit card company announced.
Víctor Bonano won the competition, followed by Luis Rosado a student at the San Juan Hotel School, who won a $500 prepaid MasterCard.
The MasterCard Student Food Challenge took place last week at Plaza Las Américas, when the students were asked to prepare and present a cold appetizer in 60 minutes. Bonano prepared an octopus gazpacho, while Rosado presented a version of a capresse salad. The winners were announced during Saborea.
"At MasterCard we are extremely pleased with the performance of the chefs in the 'MasterCard Student Food Challenge', our congratulations to Víctor and Luis for representing their respective institutions so well," said Manuel Catedral, general manager of MasterCard in Puerto Rico, which has sponsored Saborea for seven years.