MCS employees donate 100+ gowns, garments for proms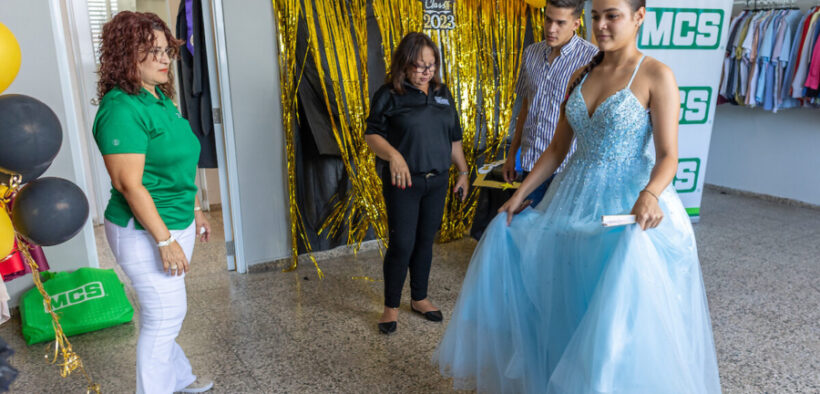 As part of their commitment to the community, and for the fourth consecutive year, MCS employees have donated more than 100 formal gowns and garments to Mesón de Amor de la Casa de Amor, Fe y Esperanza (CAFÉ).
This year, the company forged a partnership with the Fashion Design School of EDP University, directed by designer Lisa Thon, and other companies. The distribution of the gowns took place during an event in which graduating students from 8th and 12th grade, as well as college students, had the opportunity to select an outfit of their choice.
"At MCS we're proud to collaborate once again with the mission of Mesón de Amor, because it reflects our commitment to young students, the community and the sustainable development of the country," said Briseida Torres, vice president of human resources at MCS.
"We thank all our employees who, every day, make a difference and consciously support high-impact causes that make a difference in the lives of others," she said.
"We also recognize the work done by Mesón de Amor, which, through its program to support college students, impacts an entire community to achieve goals so that each person believes in themselves," Torres added.
During the event, the students were acknowledged for their achievements, motivating them to continue their studies and promoting the importance of community service. In addition, they enjoyed a talk by EDP University and its Fashion Design school about the trends for spring and summer 2023. The students also received gift cards to complement their attire or for any other needs.
The Tamboricua workshop taught basic salsa steps to demonstrate through a dance class how a person can have the self-confidence to help and motivate them to take steps towards their happiness and goals.
"We want to express our gratitude to you for choosing Mesón de Amor to celebrate this beautiful event. Our motto is: 'Together, feeding the future of Puerto Rico,' but with MCS, we can say: 'Together we make dreams come true,'" said Pastor Belkis Ortiz de Moya, founder of Mesón de Amor.