MCS, Health Dept. break up after 9 months, affecting 800,000 beneficiaries
Nine months after being selected to participate in the government's public healthcare program, insurance provider MCS has reportedly walked away in a move that could affect more than 800,000 beneficiaries.
In a statement issued late Thursday, the provider said it had been unable to reach an agreement with the Health Insurance Services Administration, or ASES, which runs the Mi Salud program for the medically indigent. As a result, the company had "exercised its right not to renew its contract."
MCS joined the government's Mi Salud public healthcare program Oct. 1, 2010, taking over the responsibility of providing health coverage to beneficiaries in more than 40 towns in five regions assigned by ASES.
"Beneficiaries will continue receiving services during a transition period to a new administrator to be determined by ASES," said José Durán, president of MCS. "We are firmly committed to the welfare of the beneficiaries and will cooperate fully with ASES to ensure an orderly transition."
The problems leading up to Thursday's contract cancellation include allegations of late payments on behalf of ASES to MCS and, as a result, from MCS to its network of participating providers. Industry sources said the government owes MCS some $200 million to date.
Earlier in the day, Chief of Staff Marcos Rodríguez-Ema and Health Secretary Lorenzo González confirmed MCS's exit from the Mi Salud program, saying the decision had been reached following several "fruitless" meetings with MCS executives.
In its notice to MCS, the agency said the parties were now entering into a contract "termination and transition" phase.
"This means that MCS, eventually, and after a transition period, will stop serving Mi Salud in the five regions it currently serves," González said.
That transition period will reportedly last 90 days, during which the government will need to select a new administrator for the regions. In the meantime, Mi Salud beneficiaries covered by MCS will be able to continue using the health providers in their regions, until ASES notifies otherwise.
In his statements, González assured providers that their "payments will be honored and [we] will hire a company to audit and validate, with ASES, the billing received from those providers."
Reshuffling players
MCS was one of three private health insurance providers participating in the Mi Salud program, along with Humana and APS Healthcare. MCS was pulled into the mix last year, when Triple-S was shut out of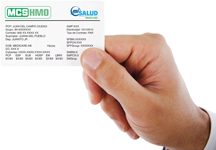 the negotiations with the government, losing the three regions it served.
At the time, Triple-S — which could re-enter the public health model in place of MCS — had some 545,000 members who participated in the government's universal coverage plan and generated $348.1 million in premiums in 2009.
While at the time Triple-S considered its exclusion from the program a "setback," the company has since bounced back through several acquisitions made in the last year.