Med Centro to expand services in Coamo with $20M health center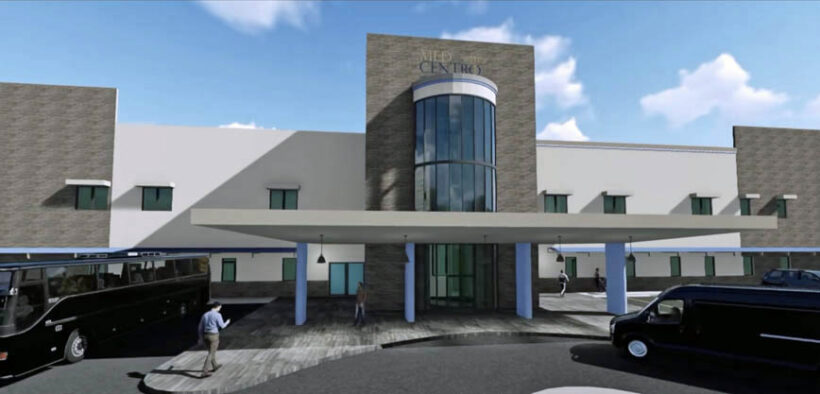 Med Centro Inc. is set to expand its services in Coamo with the construction of a new health center, a project entailing an initial investment of about $20 million that will contribute to economic growth in Puerto Rico's southern region, the community-based health care provider announced. 
"After three years since starting our clinics in Coamo, we are commencing the construction of a new, modern building, symbolizing improved access to quality services for all," said Allan Cintrón-Salichs, CEO of Med Centro. He was accompanied by Coamo Mayor Juan Carlos García-Padilla and several lawmakers at the groundbreaking ceremony.
The initial phase of the new building encompasses 24,000 square feet, providing parking for 165 cars, a dual-generator emergency power system, a potable water cistern system and water for hydrant systems. It is situated on a 26-acre property in Barrio San Idelfonso that is owned by Med Centro.
Another phase involves equipping the building with a solar energy system. Due to its potential for future expansions, the facility will be named Med Centro Plaza.
"We are very pleased and excited about the construction of the new Med Centro Primary Health Center in our town of Coamo. This is a significant project that will help us ensure good medical services for our population," García Padilla said.
Cintrón-Salichs noted: "At Med Centro, we take the needs of the population we serve very seriously, making every effort to conduct our actions efficiently and allocate resources to ensure the uninterrupted provision of quality clinical care for our patients. The satellite center we are beginning to construct will soon become a reality and is an example of the passion we have for the work we do."
Med Centro's CEO also acknowledged García-Padilla's collaboration with Med Centro since its establishment in Coamo.
"In December 2019, we expanded our operations to the municipality of Coamo, from which we also serve certain areas of the municipality of Salinas," Cintrón-Salichs explained. "At the beginning of that expansion, the COVID-19 pandemic occurred; however, far from being a limiting factor, it validated the importance of the continuity of care that Med Centro offers to its patients. Without sparing any safety measures for patients and staff and in close collaboration with Mayor Juan Carlos García-Padilla and his team, our services were even expanded during that period to provide testing and vaccination throughout this southern coastline, fully fulfilling our mission: Always provide quality health care for all."
Established in 1971, Med Centro is a community-based organization governed by patients who are also community members. It operates under the Health Resources Services Administration (HRSA) Bureau of Primary Health Care (BPHC) and HIV-AIDS Bureau (HAB). This categorization designates it as a Federally Qualified Health Center (FQHC).
Employing more than 475 health care professionals across various disciplines, Med Centro recorded 218,125 clinical encounters with 46,343 unique patients in 2022.