Medtronic pumping $50M into Juncos complex, adding 200 jobs in 3 years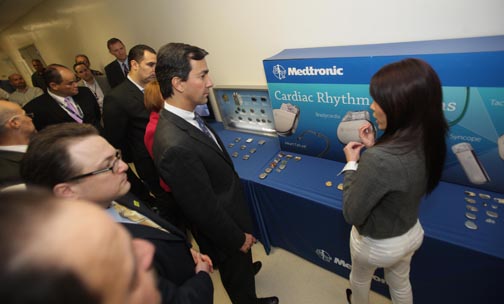 Medical device maker Medtronic will be pumping $50 million into expanding its Juncos operation in the next three years, adding some 200 jobs in the process, company and government officials announced Friday.
Headquartered in Minneapolis, Medtronic Inc is the global leader in medical technology – alleviating pain, restoring health and extending life for millions of people around the world. It established its first operation in Puerto Rico, in Villalba in 1974.
Today, the company employs 2,300 people, mostly at its Juncos campus. The 200 additional jobs will be over the next three years as new product lines based on pioneering technology are incorporated into the operation, which is already dedicated to making high-tech medical products and in the treatment of chronic diseases.
"We are proud that a company of Medtronic's caliber is putting its trust in the Puerto Rican market. We will continue to expand our offerings so that other companies take advantage of the benefits of investing in our island, to ensure new employment opportunities," said Governor Luis Fortuño during a news conference at the plant.
The announcement is the third in as many days made by local operations looking to expand their presence on the island. Honeywell, Metzgermeister and Patheon disclosed their own growth plans earlier this week, vowing to add 170, 189 and 24 new jobs, respectively, in coming months.