Merck investing $2.5M in new P.R., regional headquarters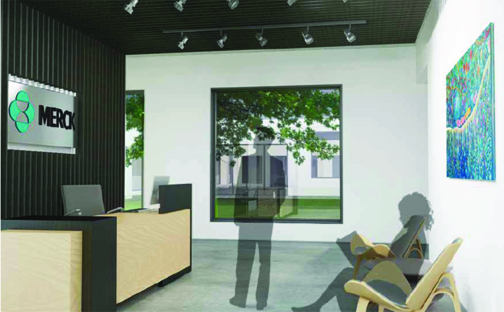 Pharmaceutical company Merck, which has had presence on the island for more than six decades, will be investing $2.5 million in new business offices in Puerto Rico that will also serve as its commercial headquarters for the Caribbean region, company officials announced.
Currently, Merck's commercial operation houses its regional offices for the entire Caribbean, and from where it also provides some services in the Latin American region.
The new commercial headquarters will be located in a 46,000 square-foot facility in Carolina, which will consolidate Merck's offices currently in Toa Baja and Carolina. The new facility will be ready in about a year, and will feature an ultra-modern design with open and eco-friendly spaces to accommodate more staff than allowed by the previous structure.
The future Carolina offices will house Merck Research Laboratories, Merck Consumer Care and other regional functions that will provide service from Puerto Rico to Latin America, said Frank Gutiérrez, vice president and general manager of Merck Puerto Rico and the Caribbean.
These operations will also include the pharmaceutical business segment, as well as the clinical and consumer research segments. The combination of these factors makes this Merck operation "very important for the company worldwide," he said.
"Beyond providing medicines, being a leader in health care is also about helping people achieve their health goals," said Gutiérrez. "The tradition that began in Puerto Rico more than 60 years ago continues today with this investment our company has wisely decided to undertake to contribute to Puerto Rico's economic health and better serve our customers and patients."
The novel design of the space is avant-garde concept, that will include ultra-modern minimalist elements, dominated by glass and transparency, with few divisions, in a style that seeks to promote greater interaction between employees.
"Our redesigned facilities help us in the process of continuing to innovate in the field of science and thus help improve the health of our people in Puerto Rico and the Caribbean," said Gutiérrez.
Aside from its commercial operations, Merck has three manufacturing facilities in Puerto Rico, in Arecibo, Barceloneta and Las Piedras.