Miami will host 1st Women Who Lead Summit –Money Edition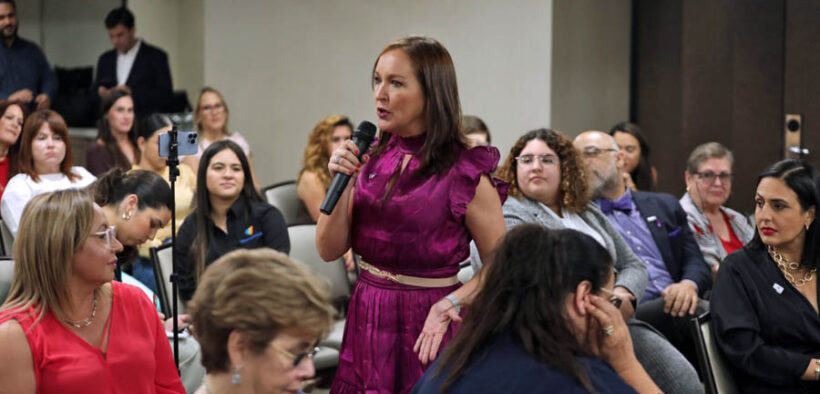 The financial growth of local businesswomen, executives and entrepreneurs will be the focus of the first Women Who Lead Summit – Money Edition, which will be held on May 4 in Miami. Puerto Rican businesswoman Frances Ríos will host the event, supported by more than a dozen local, national, and international organizations.
The summit is scheduled to take place from 8 a.m. to 4 p.m. at the InterContinental Miami Hotel. Sponsors for the event include Delta/LATAM Airlines, Walmart, Santander Bank, Gran Centenario Tequila, DonQ, and Access All Services.
The initiative will also introduce the NEXTworking method, a business speed-networking system developed to facilitate the creation of professional and commercial connections between women.
Attendees will be able to establish professional relationships with peers from different cultures and industries, discover opportunities, and even start or close business deals, said Ríos, who is the CEO of Women Who Lead and the Latina Next Foundation.
For this new edition of the summit, Ríos said she adapted the concept she had successfully developed for eight years in Puerto Rico, refocusing her objective on the development of Latinas and African Americans from South Florida
"The goal is to help them accelerate their businesses, ignite their careers and grow their finances, with the event as their starting point," she said. "To accomplish this, in addition to presenting impressive speakers from different latitudes and industries, the Women Who Lead Summit – Money Edition will mark the premiere of the NEXTworking system. I'm sure extraordinary alliances and projects will be born that day in Miami."
Organizations that have joined the initiative include The Women's Chamber of Commerce, CREW Network, WeEvolution, and Aqua Foundation for Women. Additional supporters are the Women Hispanic Executive Association, Black Professionals Network, the Association of Latino Professionals for America, and HR Florida State Council. The Latin Chamber of Commerce in the United States, the General Consulate of Mexico in Miami, and others have also partnered for the event.
"We're generating a movement that will revolutionize the city with the support of leaders from more than 10 organizations who, like me, believe in the need to educate to reverse the lack of financial 'acumen' among women and end inequality," she said.
"Studies reveal that women in general, but particularly Latinas and African Americans, continue to face great economic difficulties and will retire in poverty," explained Ríos, a graduate of the international Milestone Makers program at the Nasdaq Entrepreneurial Center.
"We want to end taboos around money that are keeping women up at night, so that once and for all, they can empower themselves with their finances and careers and accumulate more wealth," she added.
The executive contrasted the fact that while more than 90% of men do business on the golf course and in the 'C-suite,' most women remain behind their desks, waiting for opportunities to come to them. The summit will not only allow women to put their businesses on display but will also give them the tools to start solidifying their financial future. 
"Businesses have a long way to go to understand the power of Latinas, who represent more than $2.8 trillion in purchasing power in the United States alone but hold less than 1% of business leadership positions and receive less than 0.4% of investment capital in the nation," Ríos said.
"Although Latinas are at the end of the list, the reality for African American women is similar. We want companies to promote them to leadership positions and see results impacting productivity. More so, we want them to dare start and lead their businesses," Ríos explained.
The speakers who have confirmed their participation in the event, along with Ríos, are:
· Stephenie Rodríguez, founder of WanderSafe and parathlete based in Australia
·       Araceli Ramos, global ambassador of Tequila Cuervo from México
·       Hanoi Morillo, an investor in Shark Tank Colombia and founder of Fivvy fintech
· Elaine King, founder of Family and Money Matters
· Natasha Falconi, president of Falconi Capital
·       Jennifer Savinon, IBEX CFO and crypto expert
· Gabriela Pulido, founder and CEO of Scalto
· Rong Hai, economist at the University of Miami