Motorola Mobility, Claro launch Motorola Pro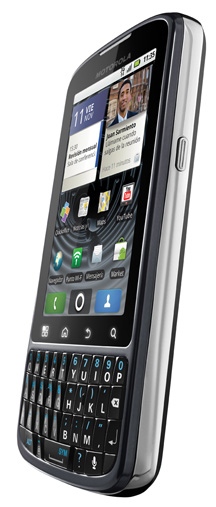 Motorola Mobility Inc. and Claro announced this week the arrival of Motorola Pro, the first Android-based smartphone optimized for business use. The new mobile combines productivity, security and customization tools with a powerhouse with a super-fast processor and physical QWERTY keyboard for more efficient typing and texting.
The device also meets critical corporate connectivity and security requirements, ensuring sensitive business information remains confidential.
"We continue to feed to the market with mobiles equipment designed for the enterprise market in recognition of the needs of the consumer. With the integration of Motorola Pro to our broad portfolio we provide an alternative akin to the professional looking for an Android device that offers security transactions and high performance together with a reliable connection and powerful as ours," said Claro President Enrique Ortiz de Montellano.
Motorola Pro is packed with features that meet users' productivity needs, such as pre-loaded Quickoffice Mobile Suite for accessing and editing Microsoft Office documents on-the-go, 3G Mobile HotSpot capabilities for connecting laptops to the Web and access to corporate email and calendar synching.
"The Motorola Pro is an advanced business-ready solution that provides users with the full Android smartphone experience," said José González, sales manager for the Caribbean, Motorola Mobility. "The Motorola Pro consolidates users' work and personal needs. This is just another reason Motorola Pro is setting a new standard for enterprise, allowing users to enjoy all the benefits of a smartphone with full push delivery of corporate e-mail and corporate level security."