Nave Bank receives approval to start operating in Puerto Rico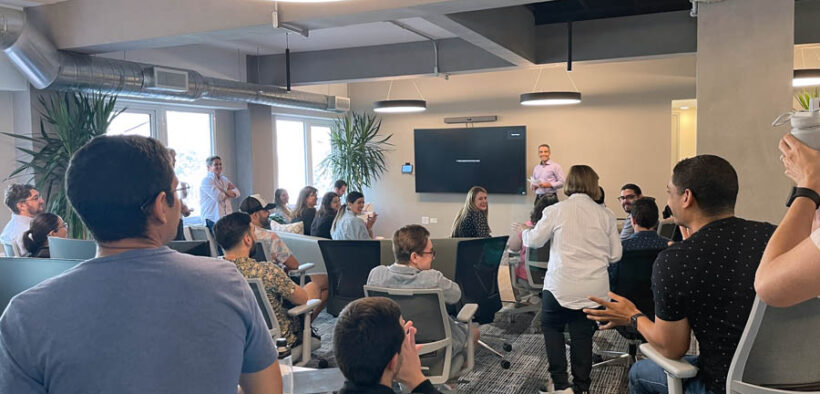 Nave Bank, the first digitally focused local bank in Puerto Rico, has received authorization from the Federal Reserve, the Federal Deposit Insurance Corporation and the Puerto Rico Office of the Commissioner of Financial Institutions to start operating on the island.
Nave Bank expects to start operations in September, with a branch and office facilities on the second floor of 1608 Ponce de Leon Ave. in Santurce. Once it starts operating, Nave will provide more details about its initial offering for businesses, officials said.
This milestone will mark the first new bank in Puerto Rico in more than two decades and only the fourth banking license approved this year in the United States and its territories.
Nave Bank's mission is to provide financial solutions that facilitate growth in the communities "and propel Puerto Rico into the future," a media release on the announcement reads. The bank's founding team "is committed to exceeding the client's expectations; developing local talent; and offering banking services with more advantages and fewer obstacles, adding convenience with simplicity and transparency."
Nave Bank's CEO, Carlos M. García, said the team is "fully aware of the responsibility that represents being the first community bank with a digital focus in Puerto Rico, and the first new banking license in the island in 24 years."
From 1995 to the present, the number of active banking institutions in Puerto Rico decreased from 21 to six, García said, adding that 90% of the local activity is concentrated in only three banks — Banco Popular de Puerto Rico, FirstBank Puerto Rico and Oriental Bank.
The team behind Nave Bank's launch is a blend of seasoned veterans from the local and U.S. banking industry, complemented by a group of professionals skilled in technology, business management, finance and other diverse industries.
Many of them were trained by Forward 787, a talent development program created by Red Ventures after Hurricane María.
Nave Bank will become a Minority Depositary Institution (MDI) and will scale up its operations in phases, officials confirmed. The initial offering will focus on providing digital and accessible financial solutions to businesses in Puerto Rico. Once it completes all the phases, Nave Bank will provide Business and Consumer banking services.
"Our goal is to deliver a superior customer-centric banking experience, with streamlined processes, and powered by cutting-edge technology," said Mariel Arraiza, president of Product and Consumer Banking, who added that the technology infrastructure will foster a secure digital environment for customers with the highest cybersecurity standards.
The bank is supported by major investors such as Red Ventures, founded by Puerto Rican businessman and Red Ventures CEO Ric Elías; BayBoston, founded by Carlos M. García and with a portfolio that includes community and digital banks; and Ribbit Capital, with investments focused on fintech companies like CreditKarma and Nubank.
Among the investors are also five of the top banks in the U.S. and more than 20 local investors.
Goodwin Procter LLP is serving as legal counsel.