New pact strengthens PR/DR commercial ties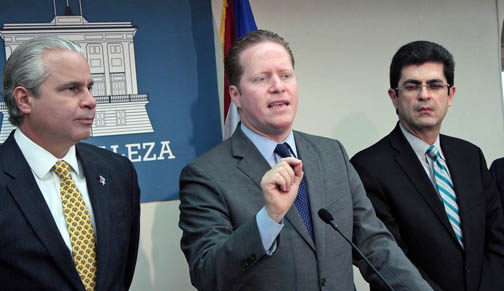 The governments of Puerto Rico and the Dominican Republic inked an agreement Thursday establishing a bilateral strategy that should spur projects to benefit both islands in education, agriculture, energy costs and tourism, Secretary of State David Bernier announced.
The so-called "Joint Declaration" will pave the way for initiatives in a number of areas. In education, for example, Puerto Rico will provide, among other things, literacy classes via a project called "Quisqueya learns with you," Bernier explained.
In the area of agriculture, the agreement includes workshops for Puerto Rican agronomists in the neighboring country so that they can take classes and practical training on the development of greenhouses, as well as participate in a grain planting project to harvest corn and sorghum varieties mainly used to feed cattle and other animals. Another possibility is working jointly to begin a rice production operation in Puerto Rico.
The pact also proposes the development of joint film productions, as well as Puerto Rican cooperation with Dominican authorities to develop affordable housing in the neighboring country.
Bernier said the two islands will explore areas of joint opportunity in the international market to buy power at competitive rates. In transportation, alternatives are being explored to address the high cost of travel between the islands, zeroing in on lowering taxes and port fees.
"This agreement is part of the economic development strategy that my administration is pushing to establish coordinated foreign trade relations and promote access to new markets and business opportunities for Puerto Ricans," Bernier said, flanked by Economic Development and Commerce Secretary Alberto Bacó and Puerto Rico Trade Executive Director Francisco Chévere during a news conference at La Fortaleza.
The Dominican Republic is one Puerto Rico's major trading partners, but the balance of trade activity between the countries has been declining in recent years.