News is my Business is now part of Google News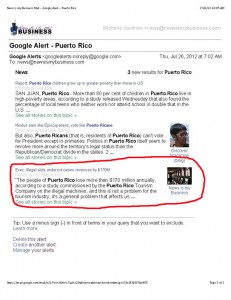 Dear Friends:
We are pleased to announce that effective today, July 26, the content included in News is my Business has become part of the Google News search engine. This means that any time a Google user creates an alert to receive news about Puerto Rico, or Puerto Rico's business community, they will receive our news site's content.
Our inclusion in Google's news alert system also means that millions of readers worldwide will have direct access — from their e-mail inboxes — to the stories News is my Business publishes on a daily basis.
We invite you to create your own Google News Alert, using the key words "Puerto Rico" so you may see for yourself when stories published in News is my Business are picked up and relayed worldwide.
This is one of many new and exciting things we have planned as we continue to improve and upgrade our website. We invite you to stay tuned and please, tell a friend about News is my Business!
Regards,
The News is my Business staff
https://newsismybusiness.com
www.facebook.com/newsismybusiness
Twitter: @biznewspr