NY-area airport closings ahead of storm ground LMM traffic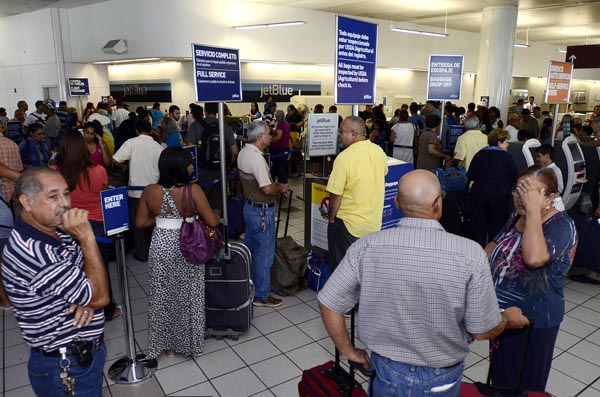 The closing of the three major airports in the New York/New Jersey area ahead of Hurricane Irene prompted dozens of cancellations from the Luis Muñoz Marín International Airport Saturday, stranding hundreds of passengers.
The airports will be closed to arriving flights at noon today, at least through Monday, government officials said. So, the air travel standstill could repeat Sunday, as the northeastern states deal with the aftermath of the massive storm.
Several major carriers serving LMM had already grounded dozens of flights late Friday.
JetBlue canceled six flights each to John F. Kennedy Airport and La Guardia Airport in New York and four flights to Newark Airport. Spirit canceled three Saturday flights to La Guardia Airport.
Meanwhile, Continental cancelled its two flights between LMM and Newark on Saturday and Sunday, plus another flight from Aguadilla's Borinquen Airport. Sister carrier United has kept its scheduled flights to Dulles International Airport in Washington D.C. and Chicago's O'Hare.
While Delta had yet to officially confirm whether its flights to New York were grounded Saturday, it would seem inevitable, as at least one of its scheduled departures from LMM would arrive JFK at 2 p.m.
News is my Business was unable to confirm how many cancellations American Airlines will make from LMM.
Passengers who were scheduled to travel this weekend should call their carrier before heading out to the airport. Most airlines have already said they will waive fees for storm-related changes.