Fame Pizza Co. opening 1st restaurant in Bayamón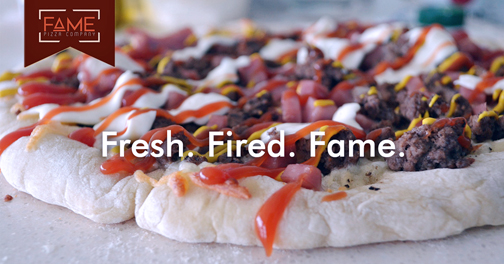 Puerto Rico-based AL Pizza LLC, announced plans to open its first Fame Pizza Company restaurant in Bayamón, near the Bayamón Oeste Shopping Center on Route 2, bringing the chain's customized pizza to the island.
The new restaurant will open Aug. 8 in a 1,000 square-foot location next to Planet Fitness. Fame Pizza Company will generate 35 jobs, said Marketing Director Génesis Ortíz.
The New Hampshire-based franchise is new to the market, launched this year by a family with experience in the ice cream business, according to the company's website. The Jones family's goal was to offer a place "where families and friends with very different cravings can come and enjoy delicious food."
The company's motto of "You design it, we bake it!" offers clients a chance to customize their pizza, building on Fame's fresh homemade dough, and choosing from any of the sauces, variety of cheeses, and meats and vegetables. Each pizza creation is then fired in Fame's stone oven, and should be ready to eat in less than 10 minutes, the company promises.
For those who are less daring, Fame also offers six signature pizzas from "The Flame" with sriracha drizzle to the "Sunrise" complete with ham, egg and cheddar. In keeping with its motto, Fame also allows customers to design their own salad or choose from the classic Caesar or the Caribbean options.
For more information about the local pizza shop, visit its Facebook page.