2,100 mangrove seeds planted to restore ecosystem in Isabela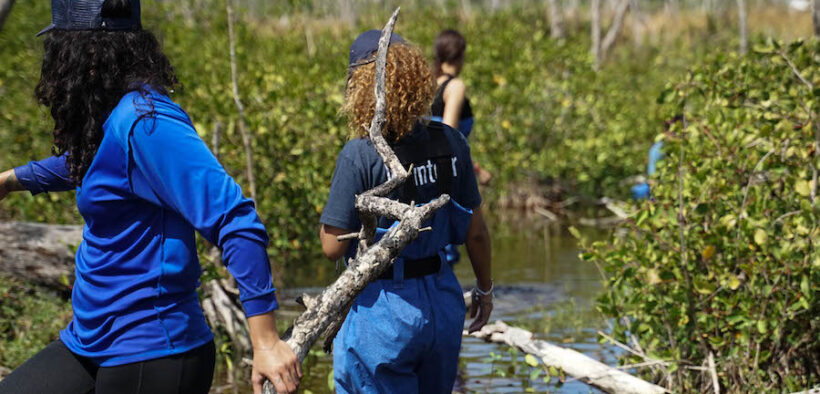 More than 80 volunteers recently gathered at the Jobos area in Isabela to celebrate Earth Day by planting 2,132 mangrove seeds and seedlings. The effort will help restore mangroves in the area, which protect the island from weather events and serve as habitats for a variety of animal species.
It is estimated that Isabela alone experienced a 95% loss of mangroves after Hurricane Maria hit the island and exited through the northwest coastal town. The mangroves in Isabela are located inland and do not have contact with the ocean.
Héctor "Tito" Varela, who is an environmentalist and ambassador for "Save the Beach PR," a nonprofit organization that focuses on coastal conservation and reducing plastic pollution, led the planting of mangrove seeds and seedlings. The participants included volunteers from Jobos and a team from the popular beer brand Corona, which besides this effort implements initiatives to reduce its carbon footprint, such as using renewable energy, reducing plastic waste and promoting beach cleanups.
The four types of mangroves found in the Caribbean — black, red, white and button mangroves — were planted.
Yamila Rivera, marketing manager for Corona, said, "The activity that was carried out aims to give continuity to our commitment to the environment by helping to restore the mangroves of Puerto Rico." She added that "Corona is proud of its long history protecting paradise."
Joseph Magruder, Corona's director for Puerto Rico, was pleased with the event, "which raises awareness" about the importance of mangrove conservation.
"Corona and the beach conservation Trust 'Save the Beach PR' join their efforts for the environment. Every time we call for collaboration, the brand's followers, content creators, media and the public are present. We are very grateful to everyone who collaborated in this effort.""
After the seed planting, the Earth Day event continued at KAI Beach with muralist Andrés Cortés and his live painting "Protege Nuestro País" ("Protect Our Country"). The event concluded with musical entertainment by Los Hijos de Punta, Juanco y los Radicales, Gomba Jahbari, Latitud Cero, DJ Davey, and DJ Graphic.