P.R.'s January workforce lowest in 28 years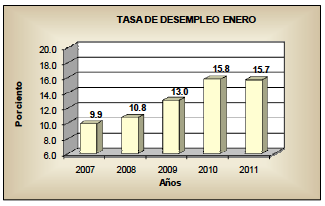 Puerto Rico's workforce fell to 41.4 percent in January 2011, representing the lowest participation rate recorded for the month of January since 1983, when the number reached 40.7 percent, the Labor Department informed Friday.
The agency disclosed that the unemployment rate for January 2011 reached 15.7 percent,
showing almost no change when compared to the 15.8 percent on record for the same month a year ago. When compared to December, the figure reflected a drop of one percentage point.
When broken down, the agency's statistics show that in January, Puerto Rico had 203,000 unemployed residents — or 16,000 more than in the prior month — which is considered "normal" as a result of temporary jobs typically created during the holiday season, said Labor Secretary Miguel Romero.
Meanwhile, the number of people employed in January 2011 totaled 1,087,000, or 26,000 fewer people than reported during the same month in 2010.
Romero said the drop in unemployment year-over-year, despite there being more people out of work, is explained by the shrinking workforce.