P.R. Conference: Brainstorming to jumpstart economy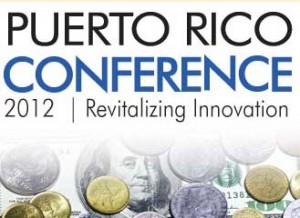 The need to build on skills as a way to bring Puerto Rico's economy back into positive ground will be the focus of at least one of the keynote addresses on the Puerto Rico Conference 2012 agenda slated to take place Mar. 28 at the Conrad San Juan Condado Plaza.
Under the slogan "Revitalizing Innovation," the upcoming conference is a joint effort between the Puerto Rico Chamber of Commerce, the Foundation for Puerto Rico, UBS, and the Massachusetts Institute of Technology.
"Puerto Rico finds itself in one of the most critical moments in its history from an economic and social standpoint; which is why an urgent change in our business and government paradigm is required in terms of our entrepreneurial development and in how the island interacts with regional and global economies," said CofC President Salvador Calaf.
"To achieve sustained growth in our economy, we need to create more entrepreneurs than employees and concentrate our efforts on the subject of exports as one of the most important elements of our entrepreneurial development," he said.
The program includes a group of conferences on Puerto Rico to be presented by a trio of MIT professors — Richard Locke, Suzanne Berger and Paul Osterman — who will discuss ways to achieve high impact entrepreneurship in Puerto Rico as well as how to strengthen manufacturing and prepare the labor force with the skills needed to revitalize investment and local innovation to promote economic development and turn Puerto Rico into an export powerhouse.
Osterman, a professor a global academic expert on the subject of management and human resources, is expected to discuss Puerto Rico's high unemployment rate and very low participation rate as indicators that the economy has been incapable of absorbing the human capital on the island.
"College education does not seem to be paying off on the island," he said, noting the program calls for paying greater attention "to skills formation as a way to support economic development and growth on the island."
The annual conference, organized by Francisco Rodríguez-Castro, Managing Director of UBS Financial Services Incorporated of Puerto Rico, seeks to stimulate investment and confidence in the economy of Puerto Rico.
"This is one of the most transcendental economic conferences held on the island and hundreds of businesspeople, investors, bondholders and executives from large multinationals attend," said Rodríguez-Castro.
The agenda also calls for discussing the relevancy of Section 933 of the U.S Internal Revenue Service for the economic future of Puerto Rico, while high-ranking executives from different sectors will share their experiences while public and private experts will discuss available investment opportunities.
For reservations or to obtain information, visit www.camarapr.org.