P.R. gov't, industry must 'proactively' seek federal broadband funding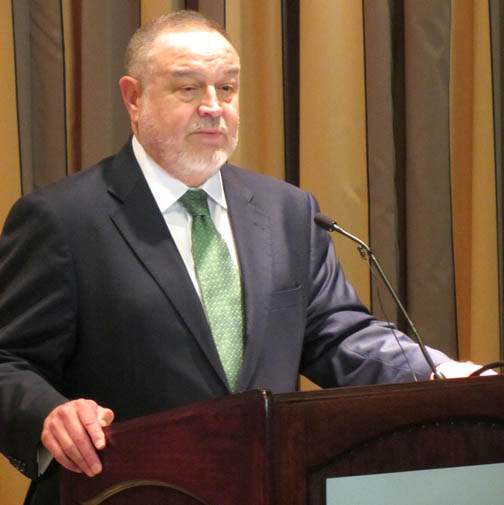 Puerto Rico needs to be proactive and keep the pressure on the U.S. government, especially the Federal Communications Commission, to make sure the island gets the funding it needs to advance broadband deployment and availability, Henry Rivera, former agency member told the National Hispanic Caucus of State Legislators in Fajardo late last week.
Saying that the FCC has failed to follow existing legislation requiring it to pay special attention to broadband availability in insular areas, including Puerto Rico, Rivera urged local lawmakers and central government representatives — particularly the Telecommunications Regulatory Board — to reach out to the federal regulator and stay on top of it until money is earmarked for the island.
"Puerto Rico needs to be proactive. Resident Commissioner [Pedro Pierluisi] has made several calls to the FCC, but the government needs to keep the pressure on and vocalize the issue to the Hispanic caucus in Congress," said Rivera, who served on the FCC from 1981 to 1985 and is currently partner at the Wiley Rein LLP law firm.
The urgency behind Rivera's remarks are fueled by activity at the FCC, which is working on a cost model that will ultimately determine decide how much insular areas, including Puerto Rico, are going to get in broadband funding.
Puerto Rico's broadband penetration rate currently hovers at about 31 percent, according to the Chief Information Officer's statistics. That means that 69 percent of the local population is on what Rivera calls the "the wrong side of the digital divide."
"It is imperative that the cost model takes into account what's going on in Puerto Rico, because so far, the FCC has not done that," he said.
Rivera said the grants Puerto Rico has received so far from the U.S. Department of Commerce's National Telecommunications and Information Administration is "terribly important money that the island needs to build out the infrastructure, but it's not enough to significantly increase broadband penetration."
Puerto Rico has actively benefited from the NTIA's grant programs, getting a combined $40 million in funding through the American Recovery and Reinvestment Act for initiatives such as the CIO's broadband map, the Puerto Rico Bridge Initiative and INTECO.
However, that funding will likely not cover what is known as the "last mile," or the connection to the home and often the costliest aspect of delivering technology.
"That's going to have to be done by the communications companies that are here, and they won't build it because there isn't a business case for them to do so, which is why the subsidies are needed," Rivera said. "The poverty level in Puerto Rico is such that they cannot even recover their costs. This situation is tailor-made for subsidization."