Gov. García-Padilla: Administration has created 41K jobs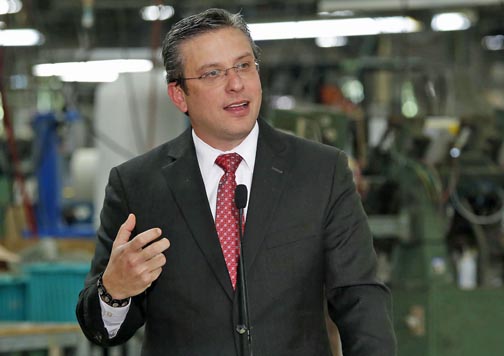 Gov. Alejandro García-Padilla said Wednesday his administration has created some 41,145 new jobs in the past 12 months, under the Jobs Now Act legislation passed in January 2013 to boost employment in Puerto Rico.
The governor said the jobs created thus far represent 82 percent of the 50,000 jobs he vowed to generate during the first 18 months of his administration.
"My government is facing problems to solve them, not to postpone them. Puerto Rico is in control of its future," he said. "Puerto Rico knows what the right strategy is, what the correct target is and wants to strive for success."
During a presentation before a number of local employers, he broke down the figure as follows: 1,156 in tourism; 3,559 in agriculture; 3,639 in manufacturing and technology; 6,015 in retail; 7,213 in services, and 19,563 in construction.
"All of the jobs were validated by the corresponding government agencies," he said.
And while the number may sound impressive, the problem is that Labor Department statistics show that some 59,000 jobs were lost between December 2012 and December 2013. This means that the net effect of the governor's announcement is the creation of about 19,000 actual jobs. At present, the island's unemployment rate stands at 15.4 percent.
"Thanks to the Jobs Now Act, employers — most of which are small and medium sized enterprises — have received benefits in exchange for creating jobs and this has a multiplier effect on the economy," he said. "The benefits of the law include payroll subsidies, energy credits, tax and patent exemptions, and discounts on State Insurance Fund policies, among others."
The 574 employers he mentioned have committed to creating 6,448 additional jobs.
He said the island is moving toward expanding and diversifying its industrial base, as well as inserting itself in the knowledge economy to use "the full talents of our people to create new technologies and applications."
"Closely related to that, we are encouraging our participation in the global economy. We live in a globalized world where those who succeed are those who know how to take advantage of that," he said.