Padilla: Banking sector on the mend after meltdown year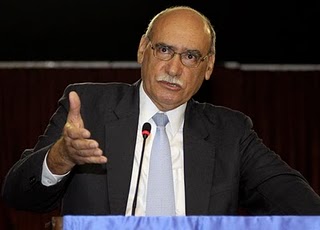 Financial Institutions Commissioner Alfredo Padilla  (Credit: © Mauricio Pascual)
Nearly a year after Puerto Rico's banking sector experienced a meltdown of historic proportions with the closing of three financial institutions, Financial Institutions Commissioner Alfredo Padilla said Friday that 2011 should be a "turnaround year" for the industry.
But for that upswing to happen, local banks still have to address several key areas that were at the heart of the financial debacle that peaked in April 2010 when the Office of the Commissioner of Financial Institutions and the Federal Deposit Insurance Corp. spearheaded the closing of Westernbank, R-G Premier Bank and Eurobank.
For one, he said banks will have to clean up their bottom lines by clearing away losing loan portfolios. Selling off non-performing loans will be a crucial element for recuperation, and is something that has already been announced by FirstBank and Banco Popular. In recent months, the banks have put up for sale $500 million and more than $1 billion, respectively, in bad loans.
"The high ratio of non-performing loans to total loans remains a serious issue," he said, noting that Puerto Rico's 8.55 percent level of bad loans is mostly attributed to the construction sector. "In 2010, the island recorded $1.6 billion in bad loans, which is a lot of money, especially when it is compounded with losses from prior years. The industry has had to recognize horrible losses."
When compared to the 5.12 percent stateside average, Puerto Rico's bad loan level is significant. Ideally, that level should stand at 2.2 percent or less to be considered healthy. However, the gap seems to be closing in comparison to 2009, when the island's bad loan to total loan ratio was 11.49 percent, versus 5.37 percent stateside.
"The disbandment began in 2006, when we began traveling toward a black hole and the U.S. financial sector went to the moon," he said, noting that the moment coincided with the start of the island's protracted recession. That year, Puerto Rico's non-performing loan levels were at 1.95 percent, while the U.S. mainland's stood at 0.79 percent.
"We're coming together again, and that has a lot to do with the FDIC's action and how Certified Public Accountants have been working with the valuation of loan portfolios considering FDIC guarantees," he noted.
Emphasizing that the expectation is that loan portfolios — a key component of a bank's bottom line — will show improvement this year, he also said achieving that must "happen in a responsible way."
"For that to happen, banks have to learn to recognize their losses, and they have to do it now. No more procrastination," Padilla said.
Meanwhile, Padilla said that banks will have to step up their loan mitigation programs to help residential mortgage customers work through their troubles before losing their properties. That way, he said, foreclosures can be reduced from the average 3,000 on record for each of the last three years.
The banking regulator said while foreclosure cases have been increasing year-over-year since 2008, the number of homes that banks ultimately take over is "minimal and is still well below when compared to stateside jurisdictions."
In January 2008 – when the OCIF began tracking foreclosure cases in Puerto Rico — there were 10,159 cases in the pipeline. That number increased 11,281 by the end of 2008, and to 14,480 and 16,880 in December 2009 and 2010, respectively.
"We have a universe of about 500,000 home loans in Puerto Rico, so we're not that bad off when total foreclosures are about 3,000 a year," he said.
On a third aspect, Padilla said banks need to increase their lending capacity, as it is the "only way the industry will pick up again," but achieving that will revert to improvements in bad loan levels.
"This is the only way the industry can begin to generate revenue to distribute among its shareholders, so they need to increase their financing portfolios in a responsible way," said Padilla.
A painful, but necessary surgery
During his presentation, Padilla looked back at 2010, likening the closings of the three banks — which effectively collapsed 30 percent of the island's banking sector — to performing cancer surgery. Bad banks had to be eliminated completely, simultaneously and cleanly to begin restoring the sector's health.
Outlining the events that snowballed into the problem — badly calculated brokered deposits, an uncontrolled growth in construction loans and a heavy dependency on foreign capital — Padilla noted that there was no other option but to shut down and regroup.
"But getting there was not an easy task, especially when we wanted to prevent generating a reaction of distrust in the island's financial system," said Padilla.
The scope of the closings and quick sale of the assets of the defunct banks to Banco Popular, Oriental Bank and Scotiabank, was so significant that it prompted FDIC Chief Sheila Bair to travel to the island to oversee the process.
"That was the first time during her tenure at the FDIC that Bair participated in the closing of a bank," he noted, to emphasize the magnitude of what took place last year.
See related story: http://bit.ly/eImh0M