Parador Combate Beach expands Cabo Rojo property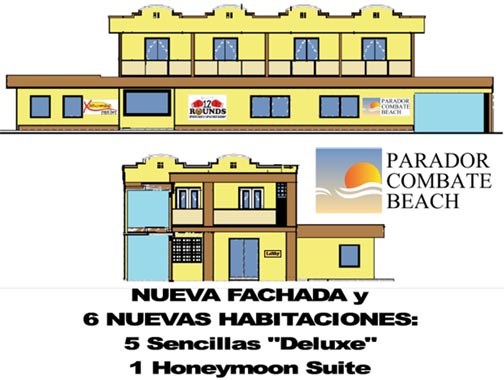 Parador Combate Beach, also known as the Combate Beach Resort, in Cabo Rojo, began the second phase of its expansion and improvement program earlier this month, with an investment of some $275,000.
The project calls for adding six new luxury rooms, including five that will accommodate two guests, and a 500 square-foot master suite featuring a living room, kitchen, dining room, bedroom with king-size bed and two private balconies.
"With the creation of the honeymoon suite, and our restaurant, we intend to solidify our position in the weddings and honeymoons market," said General Manager Xavier A. Ramirez.
This expansion, which includes designing a new façade, has generated 10 indirect jobs, and is moving along quickly, with a projected completion date of before the holidays to attract guests for the Thanksgiving and New Year's Eve celebrations, hotel executives said.
Since taking over the property last year, the owners have invested more than $3 million in upgrades that they say have boosted occupancy levels by 120 percent year-over-year.
The first phase of the property's renovation program, at a cost of $600,000, was inaugurated in June 2011. A third upgrade is planned to start during the second half of 2013 to add nine more rooms, two of which will be equipped for physically-challenged guests.
Once completed, the entire project will result in a 34-room property with a recreational area with a gazebo, swimming pool, basketball and sand volleyball courts, and direct access to the Combate beach and the Cabo Rojo National Wildlife Refuge.