ATH Móvil users may use platform to donate to nonprofits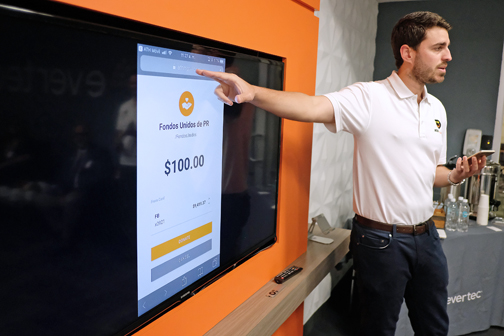 Evertec Inc. announced that ATH Móvil now has a new feature to help nonprofit organizations receive donations.
This new feature offers these entities the opportunity to expand their donor base by giving access and the ability to the more than one million ATH Móvil users to contribute to them "in an easy, secure and instant manner," company executives said.
"The nonprofit sector has been instrumental in the recovery efforts for Puerto Rico especially after Hurricanes Irma and María," said Gustavo Díaz, product manager of ATH Móvil at Evertec.
"As part of our commitment to supporting the island's reconstruction efforts, as well as encouraging innovation in all sectors, we have enabled a new feature for nonprofit organizations to raise funds via a mobile app to make it easier for them to continue their contribution to Puerto Rico's recovery and development efforts," he said.
The following organizations are already using this new feature in ATH Móvil: CAP Foundation, United Way Puerto Rico, ConPRmetidos, Grupo Guayacán, SER of Puerto Rico, Fundación Buena Vibra, Fundación Hospital Pediátrico, Instituto Nueva Escuela, United for Puerto Rico and Voces-Fundación Topy Mamery.
More nonprofit organizations are completing their registration in ATH Móvil Business to take advantage of this new feature to manage their donations, thus the list of organizations available will continue to grow, he said.
Nonprofits that want their pATH to appear in this new section need an ATH Móvil Business account and are required to fill out an application in the Donations section on Evertec's web page.
"Being part of ATH Móvil is of great benefit to us, because it helps us manage our fundraising events in an easier, less costly and more efficient manner and, at the same time, allows more people to know about us and our efforts in working for the social well-being of Puerto Rico," said United Way President Samuel González. The nonprofit is among the first to take advantage of the new donations feature.
No charges will apply to the individual making the donation. Nonprofit organizations may receive donations free of charge until Aug. 31, 2018 and after that date, the normal transaction fee of ATH Móvil Business will apply.