Plaza Carolina in line for a facelift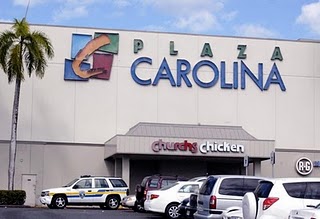 Plaza Carolina is in line for a renovation starting in the Spring.
(Credit: © Mauricio Pascual)
Plaza Carolina, the island's second-largest shopping center, will be getting a facelift starting this Spring when an undisclosed amount will be pumped into sprucing up the retail complex, owner Simon Property Group Inc. said Thursday.
Simon Property Group has selected local architecture and engineering firm Soltero, Muñoz & Associates to conduct the mall's planned renovations, including designing new interior and exterior features and amenities such as additional seating, updated restrooms, redesigned mall entrances, landscaping, flooring and lighting.
SM&A officials said Thursday that additional details about the renovation — including the timetable, color renderings of the project, amenities and finish materials — will be announced in the near future.
It is also expected that the renovation will mean the arrival of new stores, which Simon Property Group is said to be currently negotiating. The Indianapolis-based operator purchased Plaza Carolina in May 2004 for $309 million, at which time it announced plans to invest some $10 million in the multi-level 1.2 million square-foot property built in 1978.
Soon after taking over, Simon Property Group confirmed it was in talks with several large retailers — including the defunct Linens n' Things, Target and Best Buy — that were reportedly interested in establishing themselves in Carolina. But deteriorating economic conditions came into play and of the three, only Best Buy followed through, opening a store in October 2009.
Some 240 stores populate the mall anchored by JCPenney, Best Buy, Capri, and Sears. Other tenants include: Wet Seal; Mango; Crocs; American Eagle; Aeropostale; F&X; Aldo Shoes; and Charlotte Russe, among others. Plaza Carolina also has a food court, which SM&A officials also said will receive "special attention" as part of the upcoming renovation.
"What we have planned for Plaza Carolina is a contemporary environment with clean lines, clear colors, and warm textures. We will pay special attention to the food court, which will incorporate a new interior design concept. The walkways will emphasize modern lighting. Overall, we foresee young elegance for a broader clientele," said Olga Muñoz, managing partner of SM+A.
The information and documents contained in "News is my Business" are property of this blog. You may not copy, distribute or use this information without the express written permission of this blog's creator, unless it is for personal or educational purposes. Fees for commercial or for-profit use apply.