IHOP, Pizza Hut open at Plazoleta del Cantón in Bayamón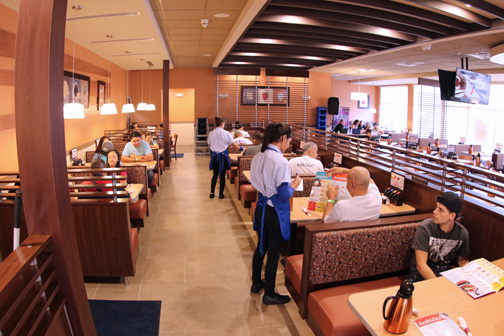 Two restaurant chains, IHOP and Pizza Hut, have opened new locations at the Plazoleta del Cantón in Bayamón, operators announced separately on Tuesday.
With a $2 million investment and the creation of 120 indirect jobs, IHOP opened its fourth location in the area adjacent to El Cantón Mall. The 5,000 square-foot location is now the largest on the island, with a capacity for 200 customers, company officials said.
"Our customers in Puerto Rico have made IHOP one of their favorite restaurants because when it comes to looking for quality and service for their money, they know that our chain is known precisely for being consistent in its offerings," said José Ribas, CEO of Encanto Sunrise Inc., franchisee of the IHOP chain in Puerto Rico.
Meanwhile, company President Humberto Rovira said plans call for having a total of 15 restaurants islandwide in five years, which would translate into more than 1,300 direct jobs.
"We're betting on Puerto Rico and for that reason we want to aggressively develop IHOP," Rovira said.
Meanwhile, Pizza Hut, is launching a new concept at the strip mall that features a seating area for customers who wish to eat their food once they pick it up. The new 2,000 square-foot location, which entailed a $650,000 investment features a more contemporary décor and offers 40 percent more space than traditional Pizza Hut delivery and carry-out locations, said Humberto Rovira, president of Encanto Restaurants Inc., the Pizza Hut franchisee in Puerto Rico.
The so-called "fast casual" concept is meant to be informal and familiar, where customers can have their meals without the added expense of a more formal environment, said Ana Agrelot, vice president of marketing for Pizza Hut Puerto Rico.
"Because the customer is the one who picks up their meals and takes them to their table, we simplify the operation and customer experience, filling a demand for delivery and carry-out service, while offering a sit-down option at much more accessible prices," she said, of the restaurant that has a capacity for 30 customers.
The company plans to open more than 20 locations featuring this new layout over the next five years. Rovira said Encanto is currently evaluating three locations in and outside the San Juan metropolitan area to build another restaurant before year's end.