Panel ponders how to slash region's high electricity costs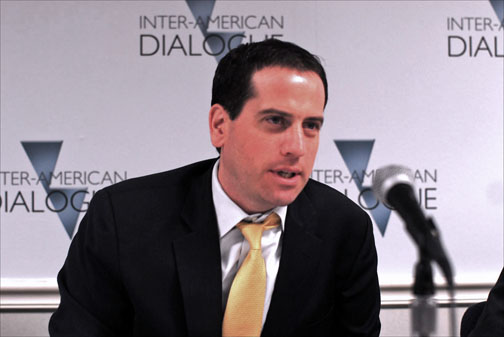 In the United States, electricity costs 10¢ to 12¢ per kilowatt-hour (kwh), while in Costa Rica, it's 15¢ per kwh and higher in Honduras and Nicaragua, Central America's poorest countries. And in the Dominican Republic, where electricity theft is a major problem for utilities, one kwh costs nearly 40¢.
Yet a top State Department official said the region — which relies heavily on diesel and fuel oil for power generation — is now in an ideal position to cut costs by introducing alternative sources like natural gas and renewable energy.
"Things that five years ago were not even possible are available today. Some methods of transporting containerized natural gas have come down in cost considerably," said Robin Dunnigan, deputy U.S. assistant secretary for energy diplomacy.
Dunnigan was one of four officials who spoke at a May 7 conference hosted by Washington's Inter-American Dialogue. Nearly 150 people attended the panel, "Energy in Central America and the Caribbean," including diplomats from 13 Washington-based embassies. Also on the registration list: Former Puerto Rico Gov. Luis G. Fortuño and César Andreu, Juan E. Hernández and Melanie R. Pérez, all of the Puerto Rico Federal Affairs Administration.
The event comes a month after President Obama's visit to Jamaica, where he announced $20 million to finance private investment in Caribbean clean energy projects.
In late 2014, the White House launched the Caribbean Energy Security Initiative, an alternative to Venezuela's Petrocaribe program under which the Washington-based Overseas Private Investment Corp. (OPIC) dedicates resources to facilitate deals in the Caribbean that match U.S. government financing with energy projects.
"A strategic project has finally come to fruition: the interconnected system among the five countries from Panama to Guatemala," said Ramón Espinasa, lead oil and gas specialist at the Inter-American Development Bank (IDB), which has committed $150 million to the 1,790-kilometer-long transmission line, known by its Spanish acronym, SIEPAC. "The final link was closed late last year. The exchange of electricity has grown exponentially, particularly from Guatemala south."
Espinasa, who was chief economist at Venezuelan state oil monopoly PDVSA from 1992 to 1999, noted that Mexico is already selling electricity to Guatemala — but that the transmission line is not connected to SIEPAC.
"In the Caribbean, the main economic activity is tourism, and two-thirds of the electricity consumed in the hotel sector go to air-conditioning and lighting," said Espinasa. "So we're financing projects to increase efficiency in this sector."
However, many Caribbean countries such as Jamaica are dangerously close to their debt ceiling, the IDB official warned.
"This implies that new developments in energy will have to be carried out by the private sector. These countries don't generate enough savings to finance these investments," he said. "The region needs the ability to make private-to-private long term contracts, which you can't do now. Big private generators are against that. Many of them have huge political leverage, but that has to be overcome."
Natural gas is an ideal option for the region, said a number of speakers, but the nations of Central America and the Caribbean are not heavily gasified at this point.
"There have to be generators that can run on gas," noted Espinasa. "Pipelines have to be built, and ports have to be deep enough to accept LNG tankers."
The cost of an LNG terminal has gone down from $1 billion to around $300 million. For the Caribbean, he said, compressed natural gas shipped from Florida could be sent as far south as Jamaica — about 1,000 nautical miles.
Michael Cummings is special advisor for climate and renewables at the Overseas Private Investment Corp (OPIC), which offers loans, political risk insurance and debt support for private equity.
"On thing that distinguishes us is that we can only lend to private-sector entities," he said. "We've been very active in renewables and have loaned roughly $1 billion a year worldwide in each of the last four years in wind, geothermal and biomass projects."
But the main barrier to expand energy infrastructure in the Caribbean and Central America is the lack of bankable projects. To address that, Cummings said, OPIC is partnering with the U.S. Agency for International Development (USAID) to provide developers with project assistance, feasibility studies and legal document preparation.
"We are interested in natural gas projects," he said. "We just don't have any in our pipeline in the region. We need developers to bring us projects."
Ricuarte Vásquez is the Panama-based CEO of General Electric Central America and the Caribbean, said Central America's institutional setting is complicated, because Panama and Guatemala have a private energy market, while in Costa Rica it's fully state-owned, with little private participation.
"In the Caribbean, it's very complex," he said. "In the English-speaking countries, it's usually more state-oriented, and even if they have private institutions, the market prices do not reflect the cost of energy, and that makes it very challenging to put a project together, because it's heavily subsidized for political reasons. That leads to a vicious cycle of indebtedness to keep prices low."
Another issue is theft, said Vásquez, who was Panama's finance minister twice. In the Dominican Republic, for instance, about 35 percent of the electricity produced is stolen, he said — and in some cases, the theft takes place at the institutional level.
"In spite of the difficulties, we are looking for solutions. The demand for energy is there," he said. "Gas could be a solution, but it's a long-term solution. Nicaragua has huge potential for geothermal, but research happens to be expensive. However, once you hit it, it's a very clean solution."