Culson headlines Popular's 'Echar pa'lante' 2.0 campaign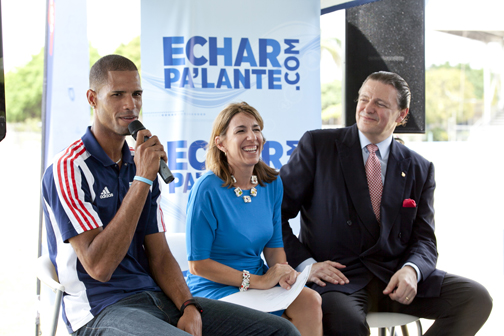 Focusing on three pillars — support, discipline and passion — Banco Popular launched Tuesday the second phase of its "Echar pa'lante" ("Moving Forward") institutional campaign centered on the image of Puerto Rico track and field overachiever Javier Culson.
Culson will represent Puerto Rico in the London 2012 Summer Olympics, when he will have to tackle 10 hurdles to reach the finish line. For its campaign, Popular will focus on the hurdles that regular people face every day.
"We want to convey the message of how three factors — support, discipline and passion — affect people's achievements," said Popular CEO Richard Carrión. "This advertising effort has as its central axis continuing to stress the importance of the 10 hurdles, as these are examples of the obstacles we all have in life and the importance of moving forward."
When Culson takes to the Olympic track in August, he will not only be running for himself, but will symbolically lead "the island's race," the first of two taglines of the campaign that will also focus on the "In these Olympics, Culson isn't running. A country is running," slogan, bank officials said.
The bank's latest campaign was designed by the JWT ad agency and shot entirely in Puerto Rico. It zeroes-in on Culson's role as an athlete, as well as three regular people — a public housing resident, a spina bifida patient, and a man who lost his job — who were able to overcome the obstacles life has thrown their way.
"We sought out real life cases where we see the obstacle course that an ordinary citizen has to go to overcome to achieve their goals and compared it with that of an athlete as Culson, who beats ten obstacles per race in pursuit of the gold," said Mariel Arraiza, first vice president of marketing and business intelligence for Banco Popular.
"We know the talent that our island has, so we continue to support education and sport as important platforms to help our youth get ahead," she said.
As part of the campaign, Popular will set up 10 "hurdles" at different points throughout the island representing the obstacles Puerto Rico must overcome to evolve as a people: conformism; reluctance; pessimism; indifference; dependency; laziness; violence; selfishness; ignorance; and dishonesty.
The bank will sponsor public events at the hurdles, including the chance to participate in a giveaway of two trips to the London Olympics to witness Culson's race.