Popular Mortgage closes $1.5B in mortgages, refi's in '12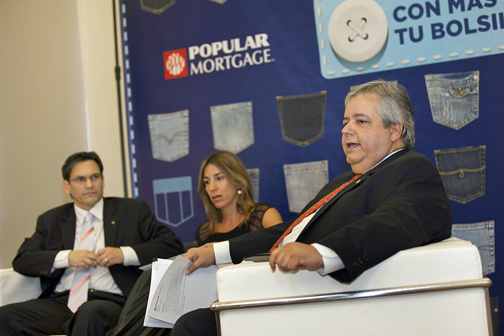 Popular Mortgage closed 10,400 new mortgages and refinancing loans in Puerto Rico last year, representing about $1.5 billion for the bank that as a result locked down a market share of about 31 percent in 2012, financial institution officials said Thursday.
During a news conference, Pablo Pérez, president of Popular Inc.'s loan division, said last year's results were the best in seven years in a market that has been on a rollercoaster ride due to its slumped economy.
"For Popular Mortgage these results are the highest in the past seven years, which responds to the attractive interest rates and market strategies focused on the client's welfare and the experience of our colleagues," said Pérez.
Popular Mortgage's results reflected a 20 percent year-over-year growth, when compared to the $1.2 billion in loan activity it reported for 2011. When put into context, Puerto Rico's total mortgage activity totaled about $4.9 billion last year, a slight increase from the $4 billion on record for 2011.
The 10,400 loans Popular Mortgage closed are split between 3,800 new loans and 6,600 refinancing agreements, which Pérez said practically doubled year-over-year. While this type of arrangement represented 33 percent of the bank's activity in 2011, it swelled to 60 percent last year, as new home sales dropped to 40 percent from 67 percent year-over-year.
Unsurprisingly, the majority (82 percent) of the refinancing agreements were structured as governmental and conforming loans, while the remaining 18 percent were non-conforming loans.
Significant savings
By refinancing last year, average customers were able to shave off about $171 from their monthly payment, bank executives said.
When multiplied by the average 30-year loan, the savings total about $61,500 at interest rates that in some cases came down to 3.16 percent.
"The past few years have been full of challenges for the industry, but the effort and clear and specialized guidance of our colleagues at Popular Mortgage paid off," said Gilberto Monzón, executive vice president Popular's individual credit group.
Springboarding off those reported savings, Popular Mortgage launched Thursday its latest ad campaign focused on the "More in your pocket" slogan, through which it will depict everything consumers can achieve with the left over money they will have when signing up to the bank's products and services.
"That at the end of the day the customer can keep more in their pocket is the job of the Popular Mortgage team, that's why they're experts in mortgages," said Mariel Arraiza, Banco Popular's first vice president of marketing and business intelligence.
The $2 million multimedia campaign is the follow up to the bank's "Eres" initiative launched last year.