Kymeta provided high-speed mobile internet access to P.R. during recovery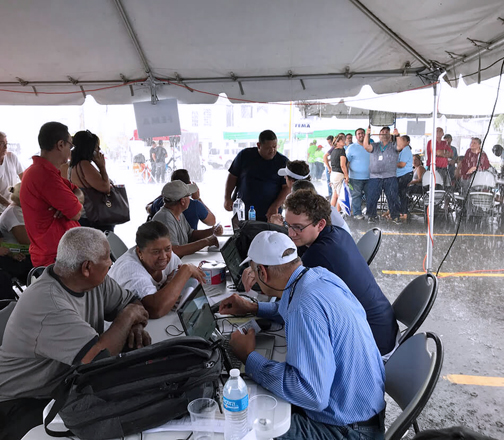 Kymeta — the communications company making good on the promise of global, mobile connectivity — partnered with Intelsat and Liberty Puerto Rico to reconnect communities across Puerto Rico when communications and power were severed by Hurricane María the company confirmed.
Three Kymeta-enabled vehicles joined a disaster relief caravan that crisscrossed the island of Puerto Rico from October through December 2017.
The vehicles were equipped with Kymeta KyWay flat panel, beam-forming, electronically-steered satellite terminals. Despite the lack of any electrical power or cellular service, the low power-consuming terminals provided internet access using the vehicles to power the communications system.
"The tour provided communication capabilities for disaster relief efforts and brought high-speed connectivity to communities that were without power or communications for weeks," said Naji Khoury, president of Liberty Puerto Rico.
Overall, the Liberty Puerto Rico Wi-Fi Tour delivered 22,266 internet sessions and 813.44GB of data usage.
"This internet access supported relief efforts in 33 communities, supporting public safety staff and helping residents access much-needed funds from pop-up ATMs, fill prescriptions and file 2,504 FEMA applications," said Khoury.
For Kymeta, providing much-needed communications in the wake of a disaster made sense.
"The Liberty Puerto Rico team has worked tirelessly over the last several months to provide some level of normalcy for the island," said Nathan Kundtz, founder of Kymeta. "Being without communications is one of the most common issues for residents, first responders and ongoing disaster relief efforts following a natural disaster."
In addition to offering high-speed internet access, the tour concluded with 36,895 hot meals served and 4,213 medical services, including vaccinations.