Public relations professionals convening this weekend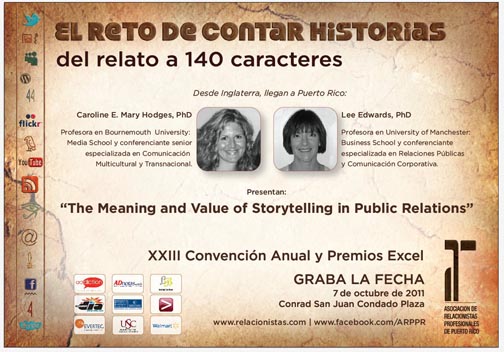 Public relations professionals convening this weekend
The Puerto Rico Association of Public Relations Professionals will be hosting its 23rd annual convention this weekend, Oct. 7-8, with an agenda full of a wide range of lectures and panels that includes more than 20 speakers who will discuss trends and technological and social changes that are playing into current communication efforts.
Focusing on "The challenge of telling stories: narrating in 140 characters," theme public relations professionals will explore the daily challenge of working mass media that is growing more interactive and immediate as a result of the Internet and the integration of social media tools.
"The interactivity of the Web 2.0 and the social networking phenomenon opens up new opportunities in the execution of our tasks, but also challenges us to learn and integrate other media, and the audiences who use them," said Vionesse Serra, president of the trade organization.
The agenda of workshops includes a presentation by British professors Lee Edwards y Carol Hodges on "The Meaning and Value of Storytelling in Public Relations." Psychologist Manuela Santiago, journalist Carla Minet and public relations professional and professor Eduardo Lamadrid will analyze communications in the 21st century.
Meanwhile, News is my Business Editor Michelle Kantrow will participate in a panel discussion of alternative media outlets, moderated by former reporter Sandra Rodriguez Cotto, along with colleagues Luisa García Pelatti, editor of Sin Comillas, and Omaya Sosa, Nelson del Castillo and Luis Coss.
Finally, sociologist Hiram Guadalupe, professor Rosario Melendez, public relations professional Helga Garcia and Professor Alfredo Nieves Moreno will offer a presentation on the construction of the story and the mobilization of public opinion through social networks.
"This convention includes communication specialists from various areas, such as journalists, professors, advertising and public relations, whose views are intertwined with those of other professionals, such as a historian, a lawyer, a psychologist and a sociologist," said Vanessa Alvira-Martínez, head of the convention committee and president-elect.
"They're all observers and participants in social change and the challenge of communicating effectively in times of 'tweets,' and friendships via Facebook, among other modern trends," she said.
The convention's agenda also includes workshops on fundraising, by professor Rafael Torrech; legal aspects and social networks by attorney Julizzette Colón-Bilbraut; new trends in Internet page integration by Jorge Elguera; integrating QR Codes into public relations efforts, by Obed Borrero; and a blog writing workshop by Maru Calderón.
Elections and awards
The two-day event will conclude with the Association's annual assembly, when new board members will be elected to run the organization during the 2012-2013 term. Two veteran public relations executives, Mily Hernández and Edgardo Sanabria are running for the presidency, while Carlos Rivera Cuesta, and Marivel Ortiz del Valle are competing for the vice-presidency.
A third candidate for president, Ana María Santiago, announced Tuesday her candidacy had been withdrawn because she fell short on the association's requirements to run.
The association's annual Excel Awards awards ceremony will wrap up the event, Saturday night. All activities will take place at the Conrad Condado Plaza Hotel in San Juan.