Puerto Rico's Econ. Activity index -5.2% YOY in Dec.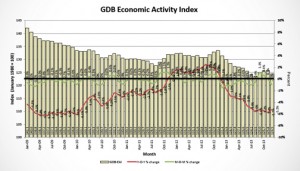 Puerto Rico's economic activity continued to spiral in December, when all four key components showed signs of contraction. According to the Government Development Bank, Puerto Rico's Economic Activity Index (GDB-EAI) registered a 5.2 percent reduction compared to December 2012 and a decrease of 1 percent on a month-over-month basis.
When broken down, the key indicators performed as follows:
The preliminary number of gasoline consumption* was 82.1 million gallons in December 2013, 8.9 percent below December 2012.
Total non-farm payroll employment for December 2013 averaged 922,600, an annual reduction of 2.6 percent. However, employment has grown in every single month since August 2013.
Electric power generation for December 2013 totaled 1,695.3 million kWh, an annual decrease of 4.7 percent.
Cement sales for December 2013 totaled 1.02 million bags, registering an annual reduction of 18.0 percent. Rainfall in December 2013 was 43 percent higher than in December 2012 and probably contributed to the decline, the GDB said.
"After showing three consecutive months of positive month-over-month growth rates the Index exhibited in December a reduction of 1 percent, on an MOM basis," the GDB said.
The GDB-EAI was released just minutes after Fitch Ratings joined Standard & Poor's and Moody's in downgrading Puerto Rico's credit to junk status.