'Puerto Rico is the Answer:' New investment think-tank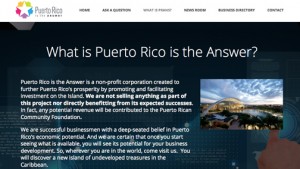 With the goal of stimulating the investment of national and foreign capital, a group of Puerto Rican experts in the fields of finance and economy have come together to create action-tank "Puerto Rico is the Answer," to drum up investments for the island.
The nonprofit will hold a press conference Wednesday to outline its strategy and discuss Puerto Rico's "unique set of economic and tax-incentive opportunities that enable the creation of a business-friendly environment, generating a great deal of interests for potential investors."
"Dedicated to identify economic opportunities and present them to potential investors, 'Puerto Rico is the Answer' serves as a liaison for entrepreneurs, aiding them through the evaluation process and formation of their particular investment projects," the group said in a statement released Monday.
"It also offers counseling services that will help accelerate their residency process, enabling investors to build business relations between their country of origin and the United States," it said in the statement.
The group's board of directors comprises executives Miguel A. Ferrer, former president of UBS Puerto Rico; Gustavo Vélez, president of Inteligencia Económica Inc.); Gabriel Hernández-Cepeda, director of the tax division at BDO Puerto Rico; and Edgardo Ríos-Méndez, expert in national and international tax law.
The group has also lined up government support from the government, as Economic Development and Commerce Secretary Alberto Bacó is expected to participate in the news conference to be broadcast as it happens live Wednesday at 10 a.m. via http://puertoricoistheanswer.com.
Puerto Rico is the only territory in the U.S with fiscal autonomy, providing tax exemptions, economic incentives and unmatchable investment conditions without the federal tax burden — individual or corporative. Also, it's ideal geographical location proves as optimal for storage and as a distribution point for products destined throughout the Americas, the statement said.