OCIF: Puerto Rico banks could benefit from fiscal board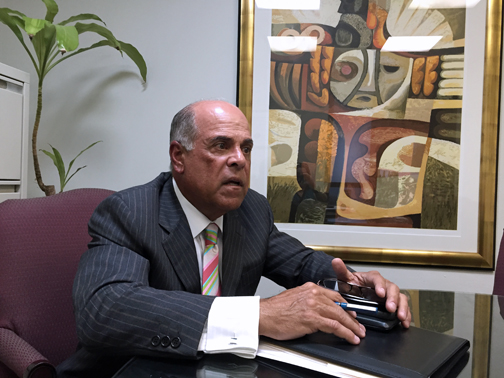 Puerto Rico's banking sector, which has been weathering the island's economic storm for the better part of the last decade, could benefit from the arrival of the Fiscal Control Board, and the trust it could instill on future investors, Financial Institutions Commissioner Rafael Blanco said.
"Banks are prepared to resist two or three more years of the slump, but I'm hopeful that the board's arrival will promote confidence in investing in Puerto Rico and that will bring with it more capital and more business," said Blanco, head of the banking regulator known as OCIF by its initials in Spanish.
He also said government flip-flopping on proposals, including new tax structures affecting the business sector, has caused problems for long-term planning and ensuring operations are viable.
"We need to achieve that Puerto Rico has more stability and credibility in terms of how much it will cost a company to establish itself here," he said, suggesting that certain laws related to permits and labor laws be reviewed moving forward.
"As an economic destination, Puerto Rico has a competitiveness problem. Businesses have to find that Puerto Rico will be more viable than other places to come here," he said. "Energy and labor costs, for example, are areas that must be re-evaluated so that the island can again have a competitive edge."
If the control board were to address the fiscal issue, "it will find that the only way to do that is by getting Puerto Rico to produce more. It will conclude that the equation isn't merely to reduce expenses, because it will create other problems. If there is uncertainty for investment, things will get even worse."
Within that context, banks are the intermediaries who would benefit from the investment influx, he said.
Blanco, who has been at his post for five years and two administrations, said local banks have a combined $8 billion in capital — the highest to date reported for Puerto Rico.
"Capital levels have increased and it's an incentive that allows banks to weather the storm, on the one hand. However, it's no less true that assets continue reducing and banks are living off of generating revenue from intermediation costs from funds instead of assets," he said. "With fewer assets, they have to expand their yields. But under the current rates, that's nearly impossible, as they are at historic lows."
Puerto Rico banks have had to focus on being more efficient in terms of their operations — moving toward adopting technology at a fast pace — and reducing loan-related losses. Banks have also had to shut down and consolidate branches.
"At one point, we had 563 bank branches in 2006. Now, we have 344, but that's considering the closing of the three banks in 2010 [Westernbank, Eurobank and RG] and later Doral," he said.
While he said all of the banks currently operating locally are still healthy, there remains a possibility of further industry shrinkage.
"If a bank doesn't have enough critical mass to generate an interest yield, it will have to look at the strategic options it has at it's disposal. If they're international entities like Santander or Scotiabank, they will likely look at their map and see where they are willing to put and keep their resources," Blanco said. "Puerto Rico banks will remain in Puerto Rico, because they have nowhere else to go."