Puerto Rico nat'l culinary team 'Best in Caribbean'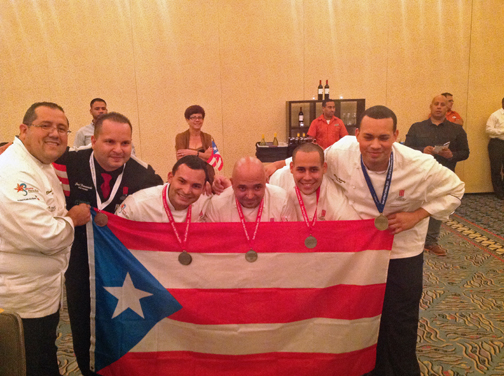 The Puerto Rico National Culinary Team was crowned once again "Best Culinary Team in the Caribbean" at the Taste of the Caribbean competition held at the Hyatt Regency in Miami.
The team competed against representatives from nine participating island: Anguilla, Bahamas, Barbados, Bonaire, Curacao, Jamaica, Suriname and U.S. Virgin Islands.
Puerto Rico's team comprising five chefs and a barman, were also the winners of the "People's Choice" at Taste of the Island, the Puerto Rico Hotel and Tourism Association announced Monday.
During that part of the competition, two-time Team Coach Elvin Rosado and Chefs Raul Correa and Luis Castillo, Pastry Chef Mizraim Meléndez and Barman José Franceschi impressed spectators with their Puerto Rican kiosk, where they served traditional dishes.
"We are proud with performance of our Culinary team who once again brought back to Puerto Rico the competition's most coveted award, where the key to win it is to showcase the tastes of our island along with a presentation of a vanguard dish, the most important dedication and team work," said PRHTA President Clarisa Jiménez.
"This year, our chefs won various gold, silver and bronze medals, which makes us enormously proud but above all it's a great satisfaction that they continued to elevate our culinary status outside the island," she said.