Puerto Rico Open to pump $22M into island economy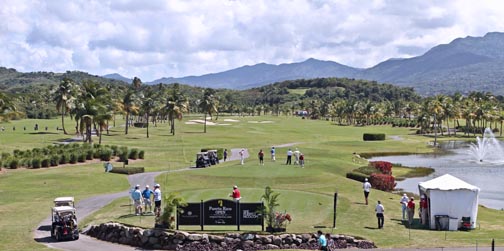 The seventh edition of the Puerto Rico Open is officially underway at the Trump International Golf Club in Río Grande, an event that is expected to have an economic impact of $22 million and reach more than 500 million homes, Puerto Rico Tourism Co. Executive Director Ingrid I. Rivera-Rocafort said during a news conference Wednesday.
The agency is sponsoring the weeklong golf event that wraps up Sunday.
"At PRTC we're committed to promoting and sponsoring events such as the Puerto Rico Open. The tournament not only boosts the tourism industry, with around 2,000 room nights at area hotels and has an economic impact of around $22 million, but also provides excellent international exposure for Puerto Rico as a travel destination," Rivera-Rocafort said.
The Puerto Rico Open will be aired on the Golf Channel and reach an estimated more than 500 million homes in 220 countries around the world. In addition to the broadcast, PRTC and PGA TOUR social media will be used to promote the event. This year's event is expected to host around 40 international journalists.
"It is a great honor to celebrate alongside the Puerto Rico Tourism Company, the beginning of the seventh edition of the Puerto Rico Open presented by seepuertorico.com, dedicated to the 60th anniversary of the Puerto Rico Golf Association," said Sidney Wolf, chairman of the Puerto Rico Open.
"The tournament, the only PGA TOUR played in the Caribbean, allows our island to shine as one of the best golf vacation destinations in the world. We have many prominent players participating in this year's competition, including four local players," he said. "We invite Puerto Rican families to join us at the tournament, an event that contributes to the economy and the quality of life of our island."
Meanwhile, Rivera-Rocafort said the tournament is an effective marketing tool to promote Puerto Rico as a "perfect choice of venue to successfully host a successful world class sporting event."
The Puerto Rico Open appeals not only to those interested in sports tourism, but also to those looking for a luxury destination. Strengthening the luxury and sports event niche markets is part of the Tourism Company's strategy to attract and increase high-end tourists' visits to the island, she said.