Puerto Rican retirees face financial, emotional challenges, study finds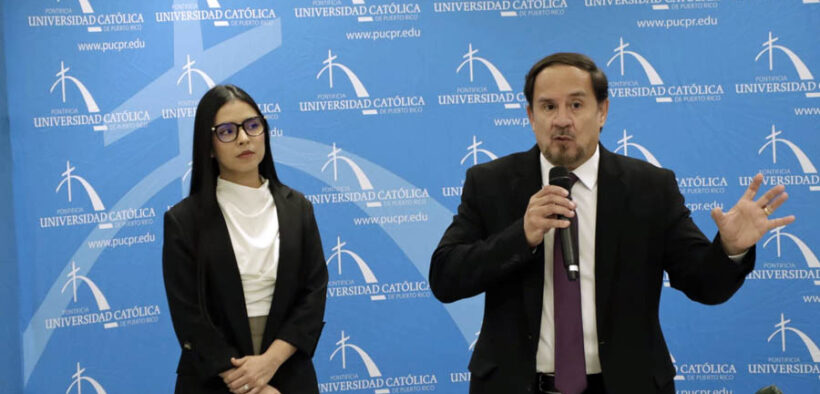 Researchers from the Observatory of Society, Governance and Public Policies at Pontifical Catholic University of Puerto Rico have presented a study, titled "An Approach to the Situation of Retired Individuals in Puerto Rico," that provides a detailed socioeconomic profile of retired individuals on the island, along with conclusions and recommendations.
Of the 1,604 retired individuals who participated in the study, 74.6% were women and 25.4% were men. Among the main findings were that the retired individuals who participated are facing "precarious" economic challenges. Many have had to adjust their social activities and purchasing habits for essentials like food and medicine to stretch their budgets throughout the month.
Forty-seven percent have considered returning to work due to the high cost of living after retirement. The study also points to feelings of "solitude, sadness and little social support" among retirees.
"Retired individuals who care for older adults feel like they are in a worse economic situation than those who are not elderly caregivers," said observatory Director Hernán Vera-Rodríguez.
In addition, retired workers who care for their grandchildren also face greater financial difficulties than those who don't.
The study further highlights that: "Far from retirement being a time of rest and reaping the rewards of a lifetime of work," retirement on the island is a period of precarity and struggle to make pension money last. Even after making adjustments to basic needs, respondents expressed sadness and anxiety.
This research builds on a 2012 study by Vera-Rodríguez about retirees in the southern and western regions of Puerto Rico. The current study was led by Vera-Rodríguez and co-authored by Jennifer Castellanos-Barreto. It also received support from various organizations, including the Pensioner Health Alliance, the Association of Government Retirees of Puerto Rico, and the American Association of Retired Persons (AARP), Puerto Rico Chapter, which helped with the collection of data.
Vera-Rodríguez explained some of the findings: "The study's results reinforce our findings from 2012 that, for the majority of respondents, retirement is not a time of joy and relaxation, but rather a constant struggle to make ends meet. In fact, one of the main findings of the study is that a segment of retirees has had to continue working to cover their daily living expenses.
"This research provides us with a clearer picture of the social, economic and emotional situation of retired individuals in Puerto Rico at a time when the fastest-growing segment of the population on the island is older adults. This is particularly important amid the reforms that have occurred and those that are still in progress in various retirement systems."
Castellanos-Barreto mentioned that the study generated interest among the population and was one of the fastest research projects conducted by the observatory.
"Between March and May 2023, in approximately two and a half months, we garnered the interest of over 4,000 people on the online platform," she said. "In this regard, the study's process was faster than expected, thanks to the acceptance and participation of retired individuals. We believe the project's acceptance reflects a need for people to share their current economic and emotional situations."
In addition to finding that 75% of retired individuals are women, the average participant age was 66. The vast majority, 85%, have incomes between $100 and $2,499 per month, and 75% reported having adjusted basic expenses, including reducing leisure activities.
"A significant segment of the surveyed retirees lives in precarious conditions, with 84% believing that the island's economic situation has affected their finances," Vera-Rodríguez said. "But beyond that, a quarter of participants have seen their financial situation worsen since the pandemic, and a substantial portion of respondents report feeling loneliness, sadness and little social support. Retirement in Puerto Rico is not a time of joy; it is a period that exacerbates poverty, especially among women."
Vera-Rodríguez added that 73% reported buying cheaper food, and 53% said high health care costs diminish their quality of life. One-third have no savings, and of the 66% with savings, most believe they won't last more than a year. Primarily, retirees' income stems from Social Security and pensions, with 47% contemplating returning to work, the researcher stressed.
Conclusions
Among the most relevant conclusions of the study is that 56.3% of respondents say their income does not allow them to live comfortably, and 60% say they do not trust that the "government will do justice to retirees."
Most retirees claimed that their lives were more comfortable before retirement and that leaving the workforce led to economic difficulties and emotional challenges during a vulnerable time in their lives.
Regarding recommendations, Vera-Rodríguez said, "From a public policy perspective, we propose continuous pension reviews for Puerto Rican retirees, as well as possible tax benefits for retirees who work after retirement, as they have already made significant contributions to the country during their lifetimes."
He also advocated for more "opportunities for free or low-cost leisure activities available to retirees," which could "help improve their physical health and reduce their sadness and social isolation."