Puerto Rico Public Relations Assoc.'s new offices get unique mural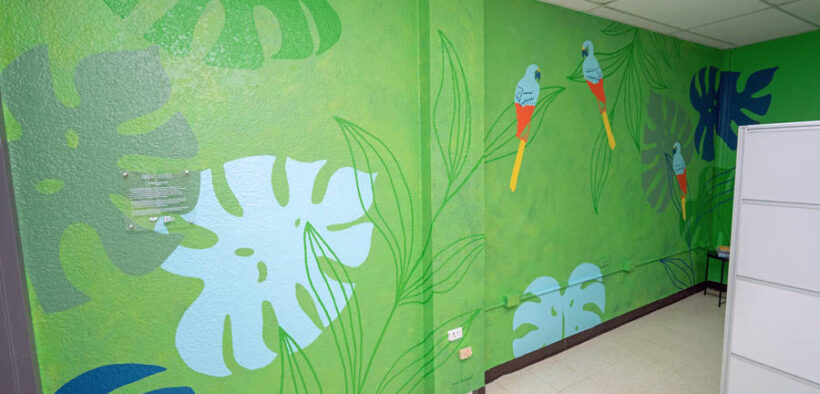 Graphic designer Virgen Rodríguez and the Dos Pinceles art collective, made up by twin sisters Gabriela and Patricia Urrutia, have joined forces to decorate the new headquarters of the Puerto Rico Public Relations Association at Inter American University's Metropolitan Campus, inaugurated Oct. 5.
"The space's design was inspired by the macaw's traits to project the vibrant, communicative and adaptable approaches of the public relations field. We used an orange, blue and green color palette to communicate emotions, trust and growth, as well as the development of a profession that is in constant evolution," Rodriguez said.
To decorate the office's two main walls, Dos Pinceles applied the wash technique with green paint, giving the surfaces texture and depth. Green represents growth, renewal and balance, and highlights public relations' commitment to sustainability and social responsibility. Leaves of green and blue hues were incorporated on top of this base to invoke nature's growth and renewal.
The design is finished with a trio of blue macaws featuring colorful orange tails, which represent vibrant communication, adaptability, flexibility, socialization, connection and the aspiration to reach new heights.
"We're very grateful to our colleague and partner Virgen Rodríguez and to the Urrutia sisters for this collaboration and we are very happy with our new offices at Inter American University. This mural and this new space have given us a renewed sense of enthusiasm to continue the association's work," said Tomás Dardet, president of the Puerto Rico Public Relations Association.
Gabriela and Patricia Urrutia were born in San Juan and hold bachelor's degrees in visual arts. Engaged in printmaking, acrylic on canvas, murals, and goldsmithing, the sisters draw inspiration from nature and are recognized for their minimalist style, predominantly featuring large leaves and flowers with delicate lines and curves.
Rodríguez has more than 27 years of experience and heads the Diseño Visual Gráfico visual graphic design firm. Alongside her team, she has created corporate identity programs, brand development projects and high-impact marketing campaigns to promote products, services, lifestyles and behavioral changes.
She has earned five Excel Awards from the Puerto Rico Public Relations Association.