Puerto Rico to host 1st International Tourism Fair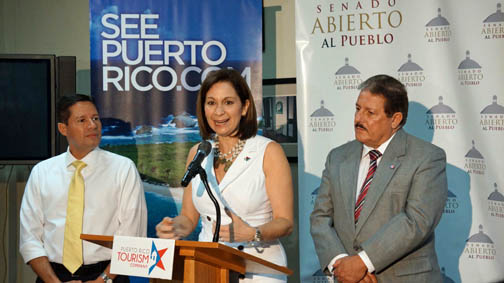 Looking to promote the island as a world-class tourism destination, Senators Antonio Fas-Alzamora and Angel Rodríguez-Otero, along with Puerto Rico Tourism Company Executive Director Ingrid Rivera, announced Sunday the proposed celebration of the island's 1st International Tourism Fair in about a year.
In line with the government's public policy and focusing on tourism as an alternative to achieve higher economic growth, the lawmakers filed Senate Resolution 511, which aims to give greater international visibility to the island.
Fas-Alzamora, chairman of the Senate's Tourism, Culture, Recreation and Sports and Globalization commission, said the initiative will "strengthen tourism development in Puerto Rico while fostering economic activity."
"The first International Tourism Fair will definitely allow us to showcase the island to the world. Through this activity, we will attract visitors to our island, uphold hotel occupancy rates and activate the economy," he said. "We will create an interest to learn about our history, culture and our people."
He added the activity "will insert Puerto Rico in the field of tourism and globalization and will mark another step in the historical development of the island's tourism industry."
Meanwhile, Rodríguez Otero, said it's time to follow in the footsteps of many countries like Germany, Spain, the U.S. mainland, China, Cuba and Argentina, among others, which for years have successfully held such events.
"We can not remain in international anonymity, we must open ourselves to the world and the time is now," he said.
The event is slated to take place in October 2014, which Tourism's Rivera said would help the agency build on its efforts to increase the sector's contributions to the island's GDP.
"This is a great tool to fuel our efforts to increase the percentage that tourism represents in the island's GDP, as such events promote the arrival of a large number of representatives of the global tourism industry, namely hoteliers, airlines, cruise lines, investors, among others, to establish businesses that will help bring more tourists, create jobs and solidify to Puerto Rico as a five-star destination," she said.