Puerto Rico wireless customers get emergency alerts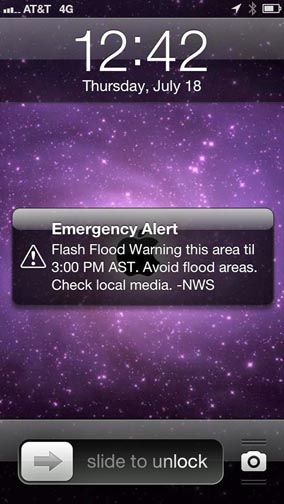 If you were one of the hundreds of wireless customers who in the middle of Thursday's downpour received an emergency notice through your smartphone, you should know that it's a sign that your carrier has implemented the Commercial Mobile Alert System to keep citizens informed.
Puerto Rico awoke Thursday under a severe tropical wave that brought record amounts of rain and ear-splitting thunder that prompted flash flood warnings for most of the island, which were announced via on-screen messages, as well as traditional mass-communications outlets throughout the day.
Through the CMAS, carriers issue warnings and instructions to citizens to help them through emergencies such as earthquakes, tsunamis, or fires, among others. Agencies such as the National Weather Service and the Federal Emergency Management Agency are tied into the alert system, so they can issue their respective warnings and instructions.
Getting the CMAS initiative going in Puerto Rico has been more than two years in the making. However, since May 2011, companies have moved forward to buy and install the necessary software and equipment to be able to offer the service.
At around noon Thursday, this media outlet conducted an informal poll via Facebook and Twitter, confirming that many customers subscribed to AT&T, T-Mobile and Sprint received the warnings, while Open Mobile and Claro Puerto Rico clients said they were kept out of the loop.
"This was a voluntary movement, and we're happy to be able to say that the companies that have installed their interfaces are working very well," Telecommunications Regulatory Board President Javier Rúa-Jovet said Thursday, confirming that Claro will be launching CMAS "at any moment."
Meanwhile, T-Mobile representatives confirmed they have been active in CMAS and is connected to the Integrated Public Alert and Warning System, a "planned multi-agency emergency population warning system in the United States designed to provide rapid, reliable and effective communication to the public in case of major emergencies such as natural disasters and terrorist attacks."
To receive messages, customers need not subscribe to any service, but must make sure their device settings are programmed to receive the government messages that are usually coupled with a loud warning sound.
"Yes, we have deployed CMAS and AT&T customers may receive alerts when issued by the island's emergency center," said Rosie Montalvo, spokeswoman for the island's largest wireless carrier.